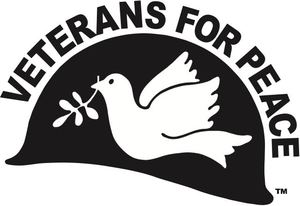 The events of the last few weeks have revealed what you have always known, the world is interconnected in a deep way and what affects one of us can affect all of us. We know that you have known this because you joined Veterans For Peace to speak out against militarism and the disastrous effects that our country has on many countries around the world.
At this moment, many of you may be having a variety of emotions while also figuring out the real challenges of staying at home, taking care of your families and of yourselves. We have also heard from many of you as you work out how to continue organizing and connect and "virtually" meet with your chapters.
The National office and the Board have had many conversations to figure out how to move in this new time. We know that Veterans For Peace is a beautiful community of veterans and allies who have built connections and have a history of creative problem solving within a system that doesn't work for many of us. We don't have all the answers but we are confident that we can figure this out together. We'd love to hear from you about what you need at this time and what you'd like to see us provide for you all!
Can you take a minute to take this survey to give us some feedback?
We experimented with VFP Social Hours this week and members enjoyed the chance to chat and catch up (or meet) with other Veterans For Peace members. We are going to continue these twice a week! We will be having a VFP Social Hour every Tuesday and Thursday at 2 pm. (EDT) | 1 p.m. (CST) | 12 pm (MST) | 11 am (PST). 
We know that many of you are also trying to figure out how to hold virtual meetings with your chapters. We have created a webpage of "Tips and Suggestions" that provide some resources. If you would like some support on how to work zoom, sign up here and Colleen or Sam will contact you and help walk you through some simple "How-To's".
Some housekeeping updates:
Our National office has closed and all of our staff is working from home. Gail and Shelly will be going occasionally (but separately!) to check mail and check on the office.
Our Store is still taking orders but items will not ship until mid-April, to ease the burden on our amazing postal carriers and delivery personnel who have seen a huge increase in work (but not in pay).
The Board has made the difficult decision to change our Convention in New Mexico to an online convention (more details to follow). While we are so disappointed to not connect with everyone in person, we are trying to look at the bright side that it will open participation to folks who may not be able to travel. Everyone in New Mexico has been amazingly generous and allowed us to rebook everything for 2021, so we will not miss out on the opportunity to gather in New Mexico next year!
So grateful to be in this with you,
Garett Reppenhagen and Adrienne Kinne