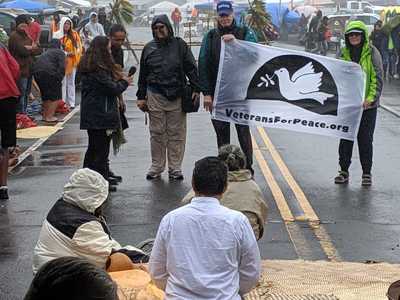 On July 30th, Veterans For Peace was honored to visit Mauna Kea and meet with the Elders circle.  VFP members presented the statement below and a VFP flag.  
To the Kanaka Maoli Elders,

Warm greetings from Veterans For Peace.  We are an international organization in nine countries for military veterans who are now organizing for peace, not war.  We are proud to stand in solidarity with Kanaka Maoli in the protection of your sacred mountain, Mauna a Wakea.

In the traditions of Kahoolawe and Makua Valley and the on-going pursuit for the protection of Pohakuloa, your stand at Mauna Kea is an event of epic proportions.

Veterans For Peace has stood with Native Americans at Standing Rock and we have sent delegations to Okinawa, Jeju Island (South Korea), Palestine and Ferguson (Missouri) in solidarity with those challenging militarism.

We are well aware of the United States' history in destroying indigenous lands.  As veterans, we know it is our duty to stand in opposition to militarism.  It is shameful that our military is desecrating ancestral land.  Veterans For Peace condemns these atrocities against the Hawaiian people. 

We are honored to be welcoming Ruth Aloua, President of Malu 'Aina, to our annual convention this August.  Our theme of our convention in Spokane, Washington is "Sacred Lands, Sacred Lives: Peace Knows No Borders."  We are looking forward to bringing attention to the ongoing resistance at Mauna Kea and we know we will have much to learn from Ruth's story.

Veterans For Peace anti-nuclear sailing ship, the historic Golden Rule, will arrive in Hilo harbor this week as part of the first leg of a voyage that will take her to the Marshall Islands in December 2019, Guam, Saipan, Pagan, Okinawa and finally Hiroshima, Japan by August 6, 2020 for the commemoration of the 75th anniversary of the U.S. atomic attacks on Hiroshima and Nagasaki.

We are sailing for a nuclear-free world and a peaceful, sustainable future. During our Pacific voyage we will highlight the destructive effects of militarism on Indigenous rights and the environment in the Pacific islands.

We do not believe it is an accident that the Golden Rule is arriving to the Big Island of Hawai'i at the very time of the profound Hawai'ian resistance to the TMT construction of a huge telescope on your sacred mountain, Mauna Kea. We are here to witness your courageous resistance and will continue to spread the news to Veterans For Peace members in the U.S. and around the world. 

Again, Veterans for Peace is honored to stand with the Kia'I of Mauna a Wakea and in support of the rights of Indigenous peoples everywhere.

Thank you for your courage, which greatly inspires us all! We look forward to finding more ways to follow your inspirational resistance.



In Solidarity!