Veterans For Peace is proud to endorse Miles "Megaciph" upcoming "The American Dream" tour.
About The American Dream Tour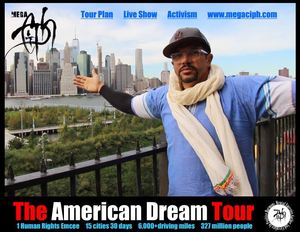 The American Dream Tour is the fulfillment of a promise that this country is truly the land of opportunity. The tour is crowdfunded by independent artists, activists and volunteers. Our goal for this tour is to deliver a message of Peace, human rights and solidarity for those in our human family most at risk economically, environmentally and psychologically. By aligning with like minds and grass roots systems of change we intend to shift the paradigm in conversations about what is possible in mainstream music.
At least one live concert performance in each city
Recruitment Awareness Workshop in a high school or university whenever possible: students considering enlisting in the armed forces will be given a chance to meet with a veteran and hear honest personal accounts of military experience
Local radio station live interview to discuss the movement, the music and the tour
Please scroll down for dates and venues. Check out his latest music video, MOTSK
About Megaciph
Megaciph, an acronym for Mental Energies Gather And Circulate In Positive Harmony, is a progressive American rapper with a captivating voice, powerful delivery, and world class production. Megaciph's body of work includes four self-published albums containing a host of artists and producer collaborations; live performances in Atlanta, London, and Nairobi, among others; videos filmed in New York and Okinawa; and currently working on multiple creative projects. A veteran of the US Marine Corps, Megaciph is a member of Veterans For Peace, working to educate people on the true costs of war through his music. Megaciph also works with World Can't Wait on their We Are Not Your Soldiers project to offer students an honest account of what military service actually means in a global context. This self-identifying yogi and practitioner of Tai Chi embodies the qualities of Peace and Harmony in both his music and daily life. He is a home chef, regular volunteer at local nonprofits, married to his wife for 16 years and is the primary caregiver to their two young children, ages 6 and 3.
Tour timeline:
March 31st - May 5th 2019
Tour Dates:
Beginning in Washington D.C. and winding our way through the country, performing in 15 cities in 36 days.
Washington, D.C. Sun Mar 31st & Wed Apr 3rd - No to NATO -- Yes to Peace FESTIVAL
Newark, NJ Wed Apr 10th - Larouge Lounge
New York, NY Thu Apr 11th - The Well
Pittsburgh, PA Fri Apr 12th
Chicago, IL Tue Apr 16th
Kansas City, MO Wed Apr 17th - The Roxy
Wichita, KS Thu Apr 18th - R Coffee House
Wichita, KS Sat Apr 20th - Wave
Albuquerque, NM Tue Apr 23rd
Phoenix, AZ Thu Apr 25th
Las Vegas, NV Fri Apr 26th
Los Angeles, CA Sat Apr 27th - Tribal Cafe
Oakland, CA Tue Apr 30th
Portland, OR Thu May 2nd - Peace House
Olympia, WA Fri May 3rd
Seattle, WA Sat May 4th
Support The American Dream Tour