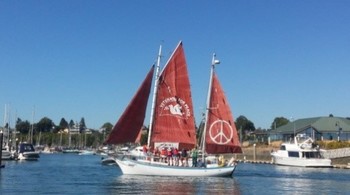 You're invited to a once-in-a-lifetime party with the crew of the Golden Rule peace boat, and the world premiere of the film, "Peace Sail: The Story of the Golden Rule."
Party with a Purpose
It has been sixty years since the Golden Rule's attempted voyage to the Marshall Islands to interfere with U.S. atmospheric nuclear bomb testing.
In celebration we will be raising funds for the Golden Rule's upcoming voyage to Hawaii, the Marshall Islands, Japan and maybe even the Korean Peninsula. With the world once again worried about the possibility of nuclear war, this is the time to be raise public awareness about the need to abolish nuclear weapons once and for all. Sailing this historic little anti-nuclear sailboat across the Pacific is a dramatic way to spread the word in the U.S. and around the globe.
Guests will be invited to see the Golden Rule, which will be docked right next to the venue, and to enjoy wine, snacks, conversation with the crew, the film premiere and a silent auction. This once-in-a-lifetime party will be on Sunday February 25, from 3-5 pm at the Newport Boy Scout Sea Base (1931 West Coast Highway, Newport, CA). Tickets will be $30, available at EventBrite – in advance. There may be some tickets available at the door if we don't sell out.
About the Golden Rule
Sixty years ago, in February 1958, four Quaker peace activists attempted to sail the Golden Rule, a 38' ketch, from Los Angeles to the Marshall Islands to interfere with U.S. atmospheric nuclear bomb testing. This bold action influenced public opinion and helped bring about the Limited Nuclear Test Ban Treaty that President Kennedy signed in 1963.
In 2010 the Golden Rule sank and was pulled from the bottom of Humboldt Bay in Northern California. After five years of restoration by members of Veterans For Peace, the Quakers and local boat lovers, the restored Golden Rule was launched in June 2015 and she has been sailing for a nuclear-free world ever since. Now a national project of Veterans For Peace, the Golden Rule spent last summer sailing throughout California to support the recently approved United Nations Treaty on the Prohibition of Nuclear Weapons. The treaty has been overwhelmingly approved by the UN General Assembly!