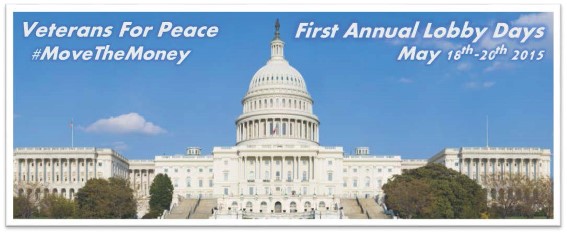 May 18 - 20, 2015
Please join members of Veterans For Peace in our first Annual Lobby Days in Washington D.C. If you are unable to travel to DC, you can still participate in your home state. These collaborative efforts will help us make a bigger impact.
May 18 – Lobby Training (Hosted By FCNL) 2-4 pm

May 19 – Lobby Orientation 8 – 9 am
                Lobby 10 am
               Recap Meeting 3 pm

May 20 – Lobby Orientation 8 – 9 am
                Lobby 10 am
               Recap Meeting 3 pm


Veterans For Peace Legislative Priorities
Federal Budget: Our priority is to see restoration of our economy to its full potential.  The U.S. federal budget needs work for the people. The Progressive Caucus "Better Off" Budget focuses on job creation and a reduction of Pentagon spending. It creates a fairer tax code so that low and middle-income families no longer pay more than they should while the world's biggest corporation's benefit from unnecessary loopholes.
Audit the Pentagon:We call for an audit of the Pentagon, the only Federal Department that cannot conduct one.
The Better Off Budget: The Better Off Budget not only creates jobs, it reduces the deficit by $4.08 trillion over the next 10 years. It's the right budget for the country, for working families and for our future. [Find out more about the Better Off Budget.]
Diplomacy with Iran:Our priority is to see the U.S. government engage in the diplomacy that will help bring Iran back into the fold of the international community and prevent the country from acquiring nuclear weapons. As veterans, we know what happens when diplomacy ends. The last thing we want is endless war with Iran.
Support Ongoing Negotiations:We ask our officials to speak out publicly in opposition of Menendez-Kirk sanctions bill (S. 269) and the Corker legislation (S. 615), any new sanctions, and other saber-rattling bills.
Support H. R. 1232 Stop Militarizing Police Act: Our priority is to amend the program under which the Secretary of Defense is authorized to transfer excess personal property of the Department of Defense (DOD) to federal and state agencies for law enforcement activities. [Find out more about H.R. 1232]
Reduction of Equipment Eligible for Transfer:Prohibit transfers of M16's and Mine Resistant Ambush Protected Vehicles (MRAP's).
Transparency and Accountability:Public website that will detail exactly where equipment has been issued. End the requirement that law enforcement demonstrate the use of equipment within one year of using it. Ensure that equipment is not lost or otherwise misplaced by requiring the Secretary of Defense to provide to Congress an annual certification accounting for transferred property.
Support H.R. 2114 Victims of Agent Orange Relief Act of 2015: Our priority is to address the health care needs of covered individuals and institutions in Vietnam that provide healthcare to such individuals. The Vietnamese people, Vietnamese Americans, and the children of U.S. veterans have yet to receive meaningful help from the U.S. government. [Find out more about H.R. 2114]