This year marked the 25th year of speaking out against the School Of Americas. Once again, members of VFP traveled from across the country to gather outside Fort Benning, GA. Thousands of activists, musicians, and artists gathered at the gates for a beautiful display of solidarity and compassion. Many members hosted booths throughout the weekend, flying their VFP flags proudly. Friday night started off with a plenary and concert. On Saturday morning, we gathered in Lumpkin, Georgia for a march to the Stewart Detention Center. Stewart, currently warehousing 1,800 men (for-profit), is one of the largest immigrant prisons in the United States. We stood outside its gates, knowing that more people are being held there than are currently living in the small town of Lumpkin, with a population of only 1200.
Over 75 VFP members and allies gathered during the Saturday evening workshop to discuss Veterans For Peace and how we can better link up nationally with the work of SOAW. Patrick McCann, VFP President of the Board of Directors, facilitated the discussion among members. We discussed the 2015 Convention, along with "Peace At Home, Peace Abroad" in relation to the work of SOAW. We heard from the SOAW delegation coordinator, Brigitte, and the SOAW legislative coordinator, Arturo. We learned that SOAW will be focusing legislative efforts next year on stopping the 1033 program, which is one federal program that allows the transfer of military weaponry to local police forces.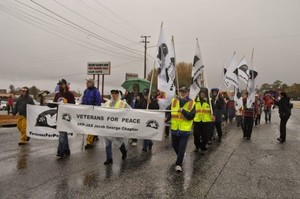 On Sunday, Veterans For Peace members led a morning march starting at 8:00 am. Over 2,500 human rights activists braved the rainstorms and converged at Fort Benning to call for an end to militarized state violence in the U.S. and abroad. Veterans For Peace board member, Tarak Kauff, read the Statement of Non-violence. Featured presenters came from Mexico, Colombia, Honduras, Brazil, El Salvador, Guatemala, Nicaragua, Nigeria, Venezuela, Palestine, and the United States. Speakers focused on connecting our struggles and recognizing the humanity of others.
Following the stage program, a solemn funeral procession commemorated those murdered at the hands of School of the Americas/WHINSEC graduates. Two SOAW protesters were arrested Sunday morning for crossing the line, and thousands of crosses were delicately placed in the fence surrounding the entrance.  The gathering was an emotional yet uplifting experience, and VFP's presence we very much appreciated throughout the entire weekend. Here are some pictures from the weekend.