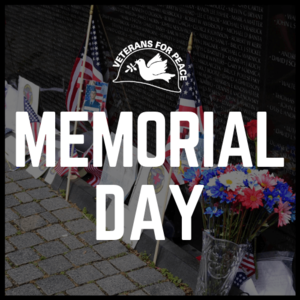 This Memorial Day we remember all who have died in war and understand that no one wins in war. Many of us have been personally touched by war. But we must also extend that mourning. We must remember the civilian victims, and their families, who are all equally human beings. Honoring and remembering some deaths while ignoring others not only perpetuates war, but also ignores the moral injuries of war, which some now recognize as a significant cause of veteran suicide.
Our message for Memorial Day is to remember all who have died in war and to understand that no one wins. We understand that those who fight the wars gain the least from them and those who send us to war gain the most from war. There are many people who either profit from war or are misled by war mongers and profiteers. These are the people who seek to block our message to question war and to work for peace.
View our full Memorial Day webpage.
Are you taking action for Memorial Day? Please send your chapter events and photos to press@veteransforpeace.org.
---
Poor People's Campaign Moral March on Washington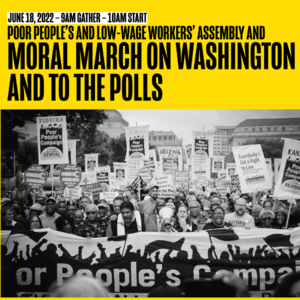 VFP is an authorized partner and will have a contingent of members at the the June 18, 2022 Mass Poor People's and Low-Wage Workers' Assembly and Moral March on Washington.
If you are interested in joining us you will need to provide your own transportation and housing. There is some assistance through CodePink to help secure cheaper room accommodations and many cities are organizing buses through the Poor People's Campaign.
Many of us will be marching with the anti-militarism group. Please let us know by filling out this form if you plan on attending and try to join a VFP only organizing call on Thursday May 26th at 6pm ET (5pm CT). We will discuss meet up times and places and collaborate as VFP members.
If you can support VFP organizing to partner more successfully with the Poor People's Campaign please consider a donation to Veterans For Peace.
---