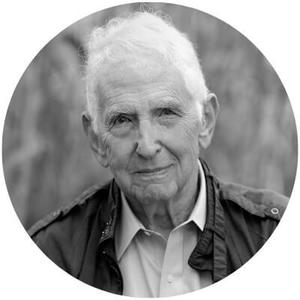 Dear Friends,
It was moving and meaningful to gather with others who loved Dan for his online memorial on October 22nd.
We're writing now to let you know that a sound-optimized recording of Daniel Ellsberg's Celebration of Life is available at ellsberg.net/memorial. We heard from some of you who experienced difficulty with the sound during portions of the livestream. We've addressed the audio glitches and have posted a new version of the recording, which will be a smoother viewing experience for those wishing to see the memorial and/or pass the link along to others.
Also, CommonDreams.org has published the text of Robert Ellsberg's wonderful eulogy for his father.
Since Dan's passing, the situation in the world has only grown more perilous and fraught with suffering. More than ever, we miss his sharp analysis and strong moral compass.
The word "protest" has its roots in the words "testify for." Dan's passion was to protect all life and save humanity from itself. His legacy lives on in the hearts and minds of those who "fight for life" (words from the poem that he recited at the end of the memorial.) May his memory continue to inspire our own efforts for peace.
Warmly, Patricia Ellsberg & the Ellsberg Family