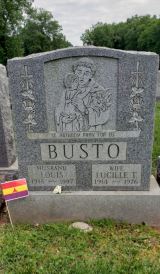 We are involved in a project that we hope will interest members of Veterans for Peace. On Memorial Day, we remember the more than 2800 Americans who fought against fascism in the Abraham Lincoln Battalion of the International Brigades. We do this by visiting the graves of Lincoln Battalion veterans and leaving a flower or flag, as has been traditionally done for all other military dead on Memorial Day.
To locate veterans' graves, we have created a database of the graves of over 400 Lincoln veterans, medical staff, and Americans who fought in other battalions. The locations of these graves have been georeferenced so they can be located to within a few feet using GPS and GoogleMaps. To date, more than 100 gravesites have been visited.
These Americans were military veterans in every sense of the word, but they are rarely if ever included in the remembrances on Memorial Day. They were willing to give their lives in the struggle against fascism, a struggle which, as members of Veterans for Peace well know, has special meaning today.
We are asking members of Veterans for Peace to join us in this effort on Memorial Day in 2022. Of course, if you can't make it on Memorial Day, any day will do. For further information about this project, or for specific information as to how to locate a Lincoln's grave near you, contact us at the email address below. Many who have done this have found it to be an immensely moving experience. Also, by locating a gravesite, you may have the opportunity to add to the existing biographical information about a Lincoln veteran.
Georgia Wever (VFP Member), Ray Hoff and Nancy Phillips, Friends & Family of the Abraham Lincoln Brigade (albtribute@gmail.com)