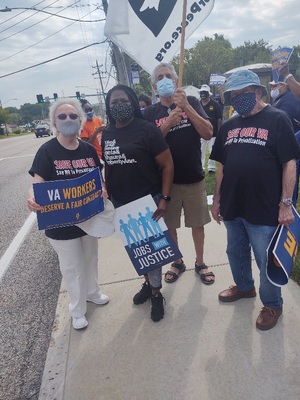 Hundreds of union members from the American Federation of Government Employees' National VA Council (AFGE NVAC)-the union representing over 270,000 Department of Veterans Affairs-in over a dozen states-held protests to demand a fair contract in the course of Labor Day weekend.
Union members have been taking to the streets for months, protesting the VA's decision to eliminate hazard pay for VA staff and continuing shortages of Personal Protective Equipment (PPE).  They have also been calling for the passage of the HEROES Act, and an end to systemic racism at the VA and union busting at VA facilities across the country.  The Labor Day protests come as the VA has refused to bargain in good faith over a new collective bargaining agreement.
Veterans For Peace members in St. Louis joined the St. Louis protest outside of the VA, standing in solidarity with AFGE members.  The protest was joined by Cori Bush, the Democratic nominee for Missouri's 1st congressional district, winning her primary in a historic election that defeated a 10-term incumbent.