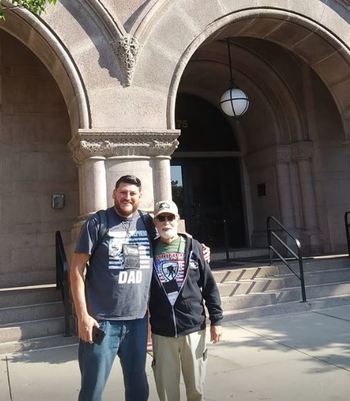 Veterans For Peace member Alfredo Figueroa is heading up a project titled "Leave No Man Behind: Keeping our Promise to Deported Veterans".  Alfredo is a OIF and OEF combat veteran that recently graduated from the Haas School of Business at UC Berkeley. He recently was granted the Judith Lee Stronach price, which allows him to work with veterans that have been deported.  He is also on the board of Veterans For Peace's Deported Veteran Advocacy Project.
He is currently doing workshops around the Bay area but is available to come to local communities to talk about his project.
Description:
Immigrant soldiers swore an oath to serve and protect the United States, however many of them have been caught in a different battle - deportation. This struggle is one that has been going on for decades within the Immigrant Soldier community, and this workshop will offer a space to critically analyze the current climate for deported veterans, to inform the community of the policies impacting immigrant soldiers, and more importantly build tangible solutions in order for us to stand in solidarity. It is time that the United States government be held accountable for a saying that is widely taught in military circles: we do not leave people behind. As a society, we must keep our promise and advocate for our immigrant veterans, that no person be left behind.
Alfredo is based in California and can be contacted via email to set up a potential workshop.  His email is: alfredo.figueroa01@berkeley.edu
Alfredo also visits the VFP chapters of Deported Veterans about once a month and is happy to take donations if members would like to send any of the following items: 
Alfredo Figueroa 
PO BOX 2363
Daly City, CA 94017
Here is a list of suggeste
d donations:
Disposable Razors
Soap and Shampoo
Deodorant
Toothpaste and Toothbrushes
Socks
Underwear, Bras
Undershirts
Feminine Hygiene Products
Baby Wipes
Foot Powder
Q-tips
Blankets
No used items will be accepted because customs in Mexico fines used items; especially clothing.