VFP Japan Organizes an Unprecedented PTSD Symposium
Report by Sam Coleman, June 20, 2018


The Japan Chapter of Veterans for Peace, in conjunction with Japan's Association for the Study of Deployed SDF Members' and Families' Well Being and with assistance from the Waseda University Institute for Journalism, organized "Realities of War We Must Know: PTSD among America's and Japan's Military Service People," a symposium on PTSD that took place on June 10 in Tokyo at Waseda University.
The event drew an enthusiastic audience of some 70 health care specialists, journalists, students and community people concerned about the toll in psychological health to SDF service people from Japan's recently expanded military deployments abroad.
The first of two segments of the symposium featured three professional panelists who presented their work.
Ryoji Aritsuka, MD, a prominent psychiatrist, specializes in psychological trauma. He has treated the first generation descendants of Battle of Okinawa victims. In his current capacity as President of the Soma City (Fukushima) Mental Clinic Nagomi, he and his staff have treated the survivors of the Tohoku nuclear meltdown of 2011. His many publications include the 2014 book, The Battle of Okinawa And Wounds of the Mind: Trauma Diagnosis at the Scene (unofficial translation).
Eri Nakamura, PhD, Research Lecturer at Hitotsubashi University's Graduate School of Social Sciences, has conducted groundbreaking research on World War II Imperial Army PTSD patients, laid out in her recently published book War and Trauma: Japanese Soldiers' Psychological War Wounds Rendered Invisible (unofficial translation). She has also participated in the Traveling Warriors (OIF) project.
Sam Coleman, PhD, MSW, is a Lecturer in Asian Studies at California State University Long Beach and Coordinator of VFP's Military Trauma Working Group. An anthropologist and social work researcher, he has analyzed the particular features of Military PTSD along with problems in American society today that hamper restoring the emotional well being of our veterans.
Panelists Aritsuka and Nakamura represent a recently formed nationwide professional group of Japanese clinicians and researchers (the Kaigai Haken Jieikan to Kazoku no Kenkou wo Kangaeru Kai) dedicated to investigating and improving the well being of deployed Self Defense Force troops and their families. This event was their first formal collaboration with VFP Japan.
In his presentation, Dr. Aritsuka surveyed the symptoms and causes of PTSD and described the reverberations throughout life and through subsequent generations of profound trauma, including late onset PTSD. Dr. Nakamura elaborated on and updated her findings regarding the causes of PTSD in the military and the government's inattention to the issue, particularly after the dramatic upswing in stress after the Abe administration's declaration of "collective self defense" in 2015. Coleman's assertion that military PTSD is qualitatively different from the civilian experience sparked a lively discussion that sharpened our recognition of the additional harm suffered by PTSD victims when the cause is social or institutional neglect and abuse (as in the case of Tohoku radiation survivors), contrasted with natural disasters such as earthquakes. The critical factor, as in military PTSD or rape, is betrayal, resulting in more complicated PTSD.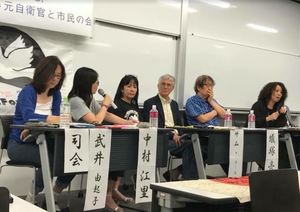 In the second symposium segment devoted to spontaneous Q & A among panelists, four VFPJ colleagues joined the presenters:
Mr. Takao Izutsu is former Ground SDF Ranger and Co-Representative of VFPJ. He described some of the shocking realities of military training and deployment, of which many politicians as well as the public are unaware.
Ms. Naoko Takato, NGO volunteer in Iraq, described the PTSD aftermath of her kidnapping in that country by radical terrorists and her arrest by US ground forces.
Ms. Yukiko Takei, JD, is a professional lawyer and VFP-Japan's Co-Representative. She guided discussion and highlighted important conclusions for the audience. Her organizational know-how and extraordinary effort led the event to complete success.
Ms. Rachel Clark, a prominent peace activist and VFP life-time member, provided able interpreting assistance for Dr. Coleman.
Our productive discussion and exchange of information and ideas reflect the strongly held desire on every participant's part for more international dialogue, particularly given the inclination of both of our governments to ignore or conceal the consequences of their incompetence and irresponsibility. The Japanese government's efforts to ramp up efforts for more SDF foreign deployments weigh particularly heavily on everyone's mind.
This event, Inspired by the mission statement of VFP's Military Trauma Working Group, VFP Japan has succeeded impressively in creating new alliances among veterans, clinicians, researchers and the public, for understanding psychological injuries from military service. This is reflected in VFPJ's membership: in addition to SDF veterans, there are a psychiatric social worker and a Fukushima evacuee who can articulate the nature and psychic toll of PTSD from that tragedy. In addition, journalists' extensive participation in VFPJ-sponsored events means that VFPJ can realize its public education function to the fullest.