Veterans For Peace is going on their third delegation to Okinawa in December 2017. Two new U.S. military bases are being constructed and the people of Okinawa have been protesting these base plans for over ten years on a daily basis. VFP stands in solidarity with the indigenous people of Okinawa against U.S. military intervention and Japanese authoritarianism.
Members of the VFP delegation to Okinawa are Miho Aida, Mike Hanes, Bruce Gagnon, Russell Wray, Will Griffin, Nyamekye Anderson (Enya), Adrienne Kinney, Pete Doktor, Ellen Davidson, Ken Mayers, Monisha Rios, Alice Newberry, Tarak Kauff, Miles Megaciph and Hanayo Oya (大矢英代)
---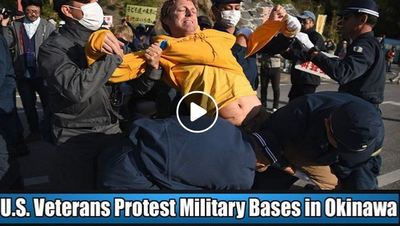 The U.S. is constructing two new bases on the island of Okinawa. The tiny island already has 32 bases and 20 percent of the island is already covered by U.S. military territory.   Will Griffin, creator of the Peace Report, created a short video of the most recent delegation to Okinawa with other Veterans For Peace members. 
Check out the Okinawa Delegation statement.  
Reflections from Adrienne Kinney
"VFP Okinawa excursion to sites impacted by the air strip at Futenma, the runway of which has military planes taking off over nursery schools, parks, homes... communities. Military planes are highly prone to accidents and a plane piece fell from the sky landing in the nursery school shown below, where tarps now hang over the playground out back. Fortunately no children were killed. In 2004 an aircraft crashed at Okinawa International University. People deserve safe communities and military aircraft - as prone to accidents as they are - do not belong flying over civilian neighborhoods anywhere!"
"VFP Excursion 3/3 yesterday to the Okinawa Prefecture Peace Park, a much needed stop for contemplation and grounding at the end of a long and important day of witnessing the impacts of war and militarism on an indigenous people which cost the lives of 149,193 Okinawan civilians.
Okinawa was the bloodiest battle of the Pacific War. The most complete tally of deaths during the battle is at the Cornerstone of Peace monument at the Okinawa Prefecture Peace Park, which identifies the names of each individual who died at Okinawa in World War II.
As of 2010, the monument lists 240,931 names, including 149,193 Okinawan civilians, 77,166 Imperial Japanese soldiers, 14,009 American soldiers, and smaller numbers of people from South Korea (365), the United Kingdom (82), North Korea (82) and Taiwan (34)."
Excerpts from Bruce Gagnon
Witnessing the Deep Peace Movement in Okinawa

"Our very diverse Veterans For Peace delegation had a good start today with an orientation and then made several stops at key sites that remember the 1945 Battle of Okinawa which saw 1/3 of all civilians on the island killed when the US attacked and knocked out the Japanese occupation.
The legacy of the war is so powerful that one of our local guides told us that the protests against US base expansion currently underway on Okinawa are heavily motivated by the strong memories from the epic 1945 battle. People here have deep scars from the war - unlike most people in the US who've never experienced such catastrophic loss."
American arrogance at Futenma

"This morning we went to Futenma (US Marine air base) in Ginowan city and joined local community activists for their daily protest as US military forces came into work. They have been protesting at this base every day for the past 16 years. Talk about a serious commitment. 
Futenma is famously called the most dangerous US base on the planet. The airfield there is plunked down in the middle of an urban area – surrounded by schools, day care centers, shops and civilian homes."
Blocking construction at Camp Schwab

"We arrived early this morning at the gates of Camp Schwab at Henoko. We held the great banner made by fellow Mainer Russel Wray (Hancock) as GI's and Okinawan civilian employees began arriving for work. The line of cars was long so entering the base was slow going which made it possible for the car drivers to get a good look at the banner.
Soon enough two Stryker assault vehicles (produced by General Dynamics) tried to leave the base carrying several decked-out combat Marines on top of each of them. We moved out in front of the gate and blocked them for quite a while. When the Japanese police were finally sent in to move us we all sat down in the road and the police tried to move us but we held on tight to each other. They finally moved the Stryker's around us so we just got up and continued with holding the banner."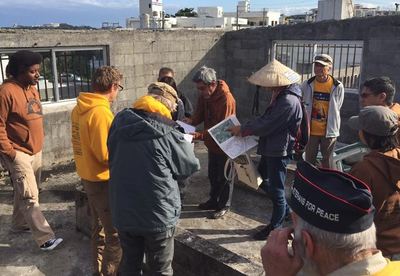 Reflections from Miles Megaciph
"I'm on my way to #Okinawa to stand in #solidarity with the anti base movement which has been ongoing since at least 1972, long before I was stationed at Camp Schwab back in 1995. The protest song I've written titled "Nuchi Du Takara" covers in a few broad strokes how the island nation was taken by military force, before I delve into some of the specifics of their movement's biggest successes and hurdles in the second verse. Finally in verse three I take the listener into my own mind and recall some of my memories and feelings while stationed at Camp Schwab."
"Yesterday we walked and had an informal peace tour of the city by two local associate members (Hanayo and Miho)
We went to two museums that had an INCREDIBLE gyoza and an official welcome dinner with the local chapter of #VFP-ROCK. Our lives in the USA are interwoven with the lives of the Okinawa we experience. Our policies of poverty and perpetual war are exported here in Okinawa when a 12 year old girl was raped by two Marines and one Sailor back in 1995 and nothing was done about it ... that's part of the ugly truth hidden from Americans ... that's the hypocritical democracy in action .... War cannot and does not create peace. #wakeupamerica"
Check out the amazing photos by Ellen Davidson