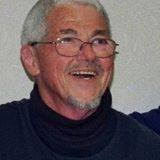 VFP member, Lynn Weeks, MA MFT, passed away this month in his sleep. He became a Ventura County, CA, VFP Chapter 112 member in 2008. He was in the USMC (E-4) from the middle to late 1950's. He had careers as a California Highway Patrolman and Marriage Family Therapist.
Chapter members especially enjoyed Lynn's participation at tabling events where Lynn would bring his furry bear with long arms to give hugs to people, young and old, who might be in need of a little love and attention. Lynn was also on the steering committee of Citizens for Peaceful Resolutions. Our supplies of AFSC's blue "War is Not the Answer" signs came to us by way of Lynn's focus on bringing an end to OIF and OEF in the Oh Oh decade. Lynn Weeks, Presente!
A memorial service will be held at the Unitarian Universalist
Church, 5654 Ralston St, Ventura, CA, on Saturday November 12, 2016, at 1pm.