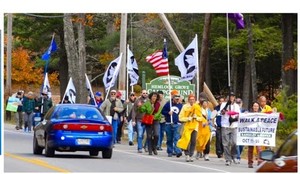 The 5th Maine Peace Walk will take place on October 11 – 26.  The organizing team is made up of individuals who are dedicated to creating a more peaceful, sustainable and just world.  We come together out of our deep concern about the many different wars being waged on Mother Earth, ranging from over-fishing, deforestation, and human-caused extinctions, to climate disruption and endless war.  
Close to home we support the Penobscot Nation's struggle for Justice for the River, opposition to the East/West Corridor, and conversion of war production to alternative energy at Maine shipyards.  We know from past experience of walking through rural and urban Maine that many people will be reached with our messages. We hope this spiritual act of walking and sharing conversation and food will help people in our state feel less isolated and despairing about the future.   
We welcome everyone to join our walk for an hour, a day, or more and to help in any way they can to contribute.   We invite environmental, peace, church, and social justice organizations to sign on as a co-sponsor of the walk.  We ask co-sponsors to make a donation of their choosing and to help spread the word about the walk to their members/community.    Tax-deductible donations can be made by check to Global Network, designated "For Peace Walk" and sent to:
Global Network Against Weapons & Nuclear Power in Space
PO Box 652
Brunswick, ME  04011
Co-Sponsors:  Penobscot Nation; Smedley D. Butler Brigade Veterans for Peace (Boston area); Global Network Against Weapons & Nuclear Power in Space; Maine Veterans for Peace Chapter 001; Citizens Opposing Active Sonar Threats (COAST); Veterans for Peace (National); Peninsula Peace and Justice; Maine Natural Guard; Maine War Tax Resistance Resource Center; Veterans For Peace, Jim Harney Chapter 003; Peace & Justice Center of Eastern Maine; Greater Brunswick Peace Works; Alliance for the Common Good;Grandmothers Against the East/West Corridor; Resources for Organizing and Social Change (ROSC); Pax Christi Maine; Friends of the Piscataquis Valley.