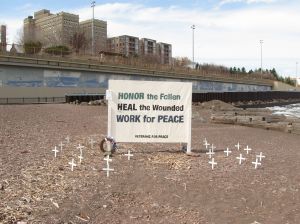 Chapter 80 was denied the right to participate in the Duluth Memorial Day parade. We have had floats in prior years so this was a surprise. The response from the public at past parades had been generally positive.
Ironically, we had a new float message specifically for this parade. Knowing there is tension with mainstream veterans groups because they are "patriots" and we are "protestors", we crafted a more conciliatory message:Honor the Fallen, Heal the Wounded, Work For Peace. We also continued our message of exposing the costs of war with half the float being a people vs. war budget pie chart. Unfortunately we were not allowed to bring this message to the public at the parade.
Chapter 80 is responding as we expect our government to respond to conflicts, with respect, tolerance and negotiation. We will be contacting the parade organizers in an attempt to find common ground and understanding.
We also organized a Memorial Day event around our float theme at a Duluth park dedicated to peace. We displayed theHonor the Fallen, Heal the Wounded, Work for Peacemessage along the popular "Lake Walk", held a bell ringing ceremony, and floated a wreath in the lake (between remnants of Lake Superior ice!). About 100 people attended which is very good for our area.
The bell ringing honored not only those of our armed forces killed in action, but the victims of war, the fallen of other countries, and the many activists who have died advocating for peace and social justice. We believe thebest way to honor the fallen is to work for peace.This should include those civilians who have died serving their communities, countries, and humanity striving for peace and justice.
Bottom line is we probably accomplished more, and had more press coverage, than being in the parade.