Veteran Members
Bob Hanson
Milwaukee WI - Chapter 102 
Navy (1967-1976 Reservist)
Member since:  Mar 6, 2020 
Bob Hanson is a retired Protestant Clergy, was a Chaplain in the US Navy, Reservist (1967-1976) He is married, five adult children, twelve grandchildren and one great grandchild. Most of his active ministry was in the urban scene. He lived and worked in Japan for thirteen years and has had non-for-profit work in Japan, Korea and Africa with the Institute of Cultural Affairs. In Japan he worked as Director of International Marketing for a small Japanese Chemical Company for ten years. He is now an active facilitator for Warrior Writers, in team leading a national workshop two times each month. Has self-published five books of poetry. I am now president of our local VFP chapter, # 102, Milwaukee!
 I bring years of community organizing, and leadership training in many settings to the board. I would be willing to serve where needed but have an interest in transformative justice and fund raising. I look forward to the challenges that we face as the Veterans for Peace, and with the Board and all our members will work to be a strong witness for peace in our nation and world. 
I am honored, as a reservist during the Nam Era to have this opportunity. My service was one of listening at the reserve center where I served for eighteen months, and called to make the kind of calls we all hope not to have come to our parents' door, or our door. The funerals for eighteen- and nineteen-year-olds have never left my mind. Recently my being part of a Dryhootch group here in my neighborhood, and many coffee gatherings each week with my colleagues from VFP and being part of Fest of Crispin here in Milwaukee has given me a new lease on life and a desire to serve as best I can on the National Board if given that opportunity and here in Milwaukee. 
Thanks you for considering my candidacy.
---
Stephen Zollman
Sebastopol, CA  - Independent
Army (1984 - 1986)
Member Since:  Jun 12, 2020
Am a recently elected Sebastopol, CA Council Member, Social Justice Attorney and former San Francisco Public Defender. Represented my fellow veterans while at Swords to Plowshares and provided free consultations at the Santa Rosa free legal clinic. Have started my LMFT courses at Golden Gate University and have completed 73 hours of my required practicum. I hope to be able to share my experience while working with other board members to help support my fellow Veterans, especially those coming from historically marginalized communities, to help end all wars.
Hope to be able to share my legal experience and limited clinical experience with my fellow board members to help support all of our veterans and allies to end all wars. Have served on a number of nonprofit boards and have strategic planning and fundraising experience. Have served on my city's budget experience and have an MBA. Have many years of grass roots organizing experience. 
Thank you for all that you continue to do and for considering my application.
---
Ken Mayers
Santa Fe, NM - Chapter 55
Marines (1958-1966 USMC; 1966-1978 USMCR)
Member Since:  Jul 30, 2014
Resigned my regular commission at end of 1966 after a short visit to Vietnam.  Accepted a reserve commission in case there were ever a legitimate need for my service.  (There hasn't been.) Was threatened with court martial by Commandant 12th Marine Corps District in1972.  Threat withdrawn by HQMC in August 1974, a few days before Nixon resigned.  Involved in peace and justice work ever since.  Picked up a UC Berkeley PhD along the way.  Joined VFP in 1986.  Cofounded Santa Fe Chapter in 2002.  Served on VFP Board 2004 through 2009; national treasurer 2005-2009.  Re-elected to board for 2021-2023 term.  Currently serve on Finance Committee and chair Membership Committee. 
Cofounded Santa Fe Chapter in 2002.  Served on VFP Board 2004 through 2009; national treasurer 2005-2009.  Re-elected to board for 2021-2023 term.  Currently serve on Finance Committee and chair Membership Committee.  Would continue to serve if elected.
---
Kelly Wadsworth
Salem, OR - Chapter - Independent
Army (2001-2011)
Member since:  Dec 11, 2021
Kelly Wadsworth is a native of the Pacific Northwest (Washington/Oregon) and over the past 7 years has been a part of two VFP chapters - Seattle, WA and Salem, OR. She served as an Army officer (56A) from 2001-2011 primarily with the WA National Guard and deployed with the 161 INF BN to Balad, Iraq in 2008-2009. Since leaving the military in 2011, she continued to work in health care, faith communities and guest speaking throughout the greater Seattle area. She earned her Bachelor's in Political Economy (1997), a Master's of Divinity (2003), and a PhD in Existential Psychology (2019) with her dissertation Profoundly changed: The homecoming of veterans from Iraq and Afghanistan. She lives in Salem, OR with her family and is an active member of VFP 132. You can also find her here (https://kellywadsworth.squarespace.com/).
"I first joined Veterans for Peace in 2015 with chapter 92 in Seattle, WA, four years after leaving the military. It was an important homecoming in my own life and gave me a place to put my experiences to work in service of the greater good. Alongside the wonderful folks in Ch. 92, I had the opportunity to join monthly antiwar protests at the federal building, Save our VA (healthcare) initiatives, counter-recruiting in high schools, Hiroshima annual remembrances, The Golden Rule visit, chapter meetings, guest panelist at the 2019 National VFP Convention and was elected to the local chapter board in 2020. In 2021, I relocated for work to Salem, OR and joined Chapter 132 where I am currently a member and involved with the joys of a slightly more rural group of committed members advocating for peace during these interesting times.
There are two particular areas of VFP's national work that I have deep experience with and look forward to contributing to:
Peace at Home, Peace Abroad--
This is a critical framework for our work. We are living through times when peace (or the lack thereof) is felt keenly at home. School massacres, rising authoritarianism, waning rights, wealth inequity and environmental contamination are no longer things that just happen in overseas war zones. There is a battle happening on the homefront and the veteran community is in a unique position to speak to it. Our best principles for pursuing antiwar internationally apply equally to peace in our own neighborhoods and the more VFP can connect-the-dots between these two worlds the stronger our voice will become.
Strategic planning & Organizational health--
In my professional life, I have served on a number of boards and am currently the chair of a local one (Westminster) and the treasurer of a national one (Presbyterian Council for Chaplains and Military Personnel). I have led two nonprofits through their own transformation and adjustment to new realities and am well-versed with the organizational dynamics of change. Clear boundaries, healthy communication, and well-defined roles becomes all the more important to tackle the stress that change inevitably brings. I look forward to bringing my experiences with best board practices, Robert's rules of order, bylaws and the leadership of paid staff/volunteers to the service of VFP national. "
---
Susan Schnall 
New York, New York - Chapter 34
Navy (2 years)
Member Since:  Aug 16, 2010
Susan Schnall is President of the Veterans for Peace national board of Directors and President of the NYC VFP chapter. She is a member of the core of the Vietnam Agent Orange Relief and Responsibility Campaign. Susan is a lifetime member of VFP. For the past several years she has organized scientific panels for presentations about Agent Orange at the American Public Health Association annual meetings and international Agent Orange conferences in Hanoi. Susan was an active duty Navy nurse (LT.JG) during the American conflict in Vietnam. In 1969 she was tried and found guilty by general court martial for: conduct unbecoming an officer for dropping anti war leaflets over five military bases in the San Francisco Bay area and wearing her uniform in the GI and Veterans March for Peace on October 12, 1968 in San Francisco. In 2006, Susan was awarded the medal for peace and friendship between peoples by the Vietnam Union of Friendship Organizations.   Susan Schnall was an Assistant Adjunct Professor, New York University, School of Professional Studies, Healthcare Management for 25 years. In April, 2015 she was awarded an Honorary Doctor of Humanities by Ohio Wesleyan University. She retired after 31 years in New York City public hospitals. She worked at Bellevue Hospital Center for ten years where she was the administrator for Quality/Risk/Utilization Management, Medical Records, and Director of Regulatory Affairs.
I have been President and Chair of the national VFP board of Directors for the past two years and member for three years. As President of the VFP national Board of Directors, I have worked to bring cohesion, stability, integrity to the national organization through leadership, team building, inclusion. With a terrific leadership team, we have made development of the chapters, working groups, and national projects a priority-along with increasing VFP membership and leading the organization out of a desperate financial situation. Along with a leadership team composed of board members and VFP members, I led the Transition Team which was responsible for stabilizing the national organization and national office.
---
Paul Cox 
Berkley, CA - Chapter 69 and Chapter 160
Marines (1968-1972)
Member Since:  Aug 16, 1987
I am a veteran of the Marine Corp and the Vietnam War. I am an ally of all those who seek justice and peace who will work with me. I am a retired civil engineer. I live in Berkeley, CA. 
I have been an activist against war since 1970 while I was still in the Marines and a member of Veterans For Peace since about 1987. I am a co-founder of VFP Chapter 69 in SF, and the Hoa Binh Chapter 160 in Vietnam. I have been a board member of Swords to Plowshares Veterans Rights Organization (www.stp-sf.org) in San Francisco since 2005 and was the board president from 2009 to 2013. I have been a member of VFP's national project Vietnam Agent Orange Relief and Responsibility Campaign since 2005. I am a co-founder and president of Veterans Healthcare Policy Institute (www.veteranspolicy.org) since 2017. I have been a member of the American Legion in SF since 1989, and in the leadership in SF since 2009. I have and continue to work in many capacities in each of those organizations, including, fundraising, strategic planning, recording secretary, and various leadership roles. 
Like many peace veterans, I believe that since this country has fought many wars and, in the foreseeable future, is certain to cause more wars, it has the responsibility to care for its victims, including its veterans, the environment, and those people injured in the countries we attack. I also believe that as veterans we need to work for peace within and between ourselves, which requires openness and honesty, and willingness to work through difficulties. 
I have worked hard on behalf of VFP for many years, but never so hard as in the last three years on the national board. With the continued support and hard work of our members, I would be honored to continue to serve a second three-year term.
I was a Marine grunt in Vietnam for 18 months. The first 12 months wore down my loyalty to the Marine Corps, but the last 6 months turned me completely against the war. My first year was spent mostly in the uninhabited high inland mountains just below the DMZ where I was in small-unit combat many times against North Vietnamese soldiers. The last 6 months, however, I was in the lowland paddies and fields south of Da Nang, where I saw the horrendous damage we were inflicting on the farmers and rural people who we were told we were protecting. Instead, our unit was a part of the country-wide strategy to depopulate the countryside where the South Vietnamese government could not maintain their corrupt control. We were vicious and murderous in that role, and it clarified for me the criminality of the US plans for Vietnam: kill'em all and let God sort'em out. 
Upon my return to the US, I still had 2 years left in the Marines and was stationed at Camp Lejeune, NC.  Several of us Vietnam War veterans and some others who had not gone to Vietnam, decided we were going to start an underground anti-war newspaper. We named it RAGE and published 12 issues over the next 2 years. We delivered it sapper-style to the barracks on base in the dead of night; and we opened a progressive bookstore, United We Stand! that sold subversive, insurrectionist, enlightening, and anti-war books to the Marines for four years until a local Klan-Meister bombed it. Since I got out, I have worked against, first, the Vietnam War then the subsequent criminal and immoral wars we have caused. 
As Andrew Bacevich pointed out, it is interesting and suggestive that the US has not won any of its wars since WWII. Those oppressed peoples who have resisted and defeated the Empire at every turn have learned their hard-fought independence. Can't we veterans who are for peace take credit, at least, for being on the right side of history? I think so. 
Veterans For Peace has an arguably unearned but real credibility in our society as military veterans.  What we have to say counts. We have rejected our indoctrination, violent training, and even more violent deployments to bring attention to the destructive realities of war. We understand that the survival of the human species is critically dependent on stopping existing wars and preventing new ones. 
Moreover, we recognize that peace and justice go hand in hand. Only by securing peace at home and peace abroad will humans survive. And only by securing justice, does peace even have a chance. 
This is my perspective, and I think it is in line with what VFP stands for. Are we perfect? Not even close.  Does our history determine our future? Yes and no. Times are changing, and history is a malleable thing—friable, even. Are our principles in line with an understanding of the danger the human species finds itself in? I think so. We have massive enemies, devious enemies, friends who are subject to misdirection. I wish to help VFP stay the course based on the unity provided by our Statement of Purpose.
Thank you.
---
Associate Members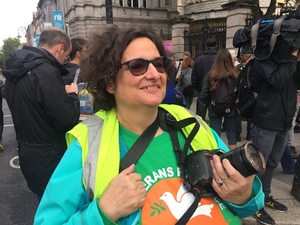 Ellen Davidson
Lifetime Associate Member
New York City Chapter 34
Member Since:  Dec 23, 2010
I have been an activist since my days in the college anti-apartheid/divestment movement in the 1970s. Among the organizations I have worked with are The Guardian Radical Newsweekly, CovertAction Information Bulletin, Lies of Our Times, the American Committee on Africa, War Resisters League, and The Indypendent. Since 2010, my primary organizational work has been with Veterans For Peace. I helped start and was central to the national newspaper Peace in Our TImes, and its successor paper out of the NYC chapter, Peace & Planet News, which is now also a popular website. I have created designs for countless brochures, flyers, banners, ads, and tshirts. I function as an unofficial "photographer of record" for VFP conventions and many actions in which VFP has participated. With the advent of COVID, I moved the NYC chapter to online meetings and have facilitated many online events ever since. I have helped organize local, national, and international actions, including the December 2010 veteran-led arrests at the White House, the 2011 occupation of Freedom Plaza, and delegations to Palestine, Jeju Island in Korea, Okinawa, Standing Rock, and Ferguson. I already work with many board members on various projects, including communications and this year's convention. In addition to Veterans For Peace, I volunteer with several Palestine solidarity organizations. For the last 28 years, I have earned my living in higher education, working in publications and advertising, both print and digital. Although not a veteran myself, I live with a former Army paratrooper (who himself served on the VFP board).
In my professional and volunteer work I have acquired many skills that would be applicable to board work, including writing, editing, graphic design, fundraising, database management, bookkeeping, and running Zoom meetings and webinars. 
In particular, I hope to contribute to finance, fundraising and communications work. I believe in working to build consensus whenever possible, and in following the majority decision when that is not possible (even if it is not my own position, unless it violates a core value). I believe that VFP's mission is tantamount, and that when we manifest our mission in exciting, creative, inclusive ways, the organization will attract new and valuable members of all ages, ethnicities, genders, races, etc. Finally, I believe that we cannot end war if we work in isolation from other movements. The struggle to end war is linked to struggles for social, racial, economic, and gender justice, to the fight to save the planet and the fight for true democracy, among many others, and we will never succeed unless we put an end to the system that places profit and corporate power above life and dignity.
---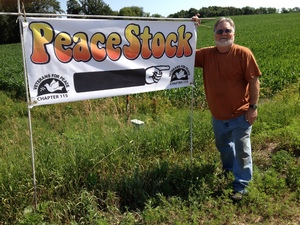 Bill Habedank
Red Wing MN Chapter 115 
Member Since:  Jul 27, 2003


I have been an associate member since 2003 where I was a charter member of the new Chapter 115 in Red Wing,MN.
I have been its executive director since 2008 and have been the chief organizer of our very popular annual event we call Peacestock.  www.peacestockvfp.org
I have attended 6 national conventions over the years and all of the virtual conventions.
I am committed to VFP's mission statement.
My experience in maintaining VFP Chapter 115 as a viable and active chapter.   Also my experience in organizing Peacestock and acquiring well-known speakers including VFP leaders.
---