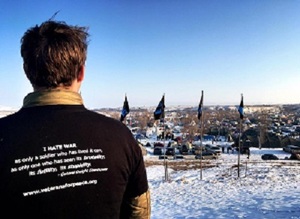 Veterans For Peace Members Reflect on their time at Standing Rock
If you have a reflection, please send it to Colleen for inclusion on our website!  colleen@veteransforpeace.org
If you have pictures, make sure to upload them to the Standing Rock Shared Album!
---
From Roger and Kristie Dupey:
We just spent a few days at the Oceti Sakowin camp at Standing Rock and had one of the most emotional and profound experiences of our lives.  We had been offering support as we could but we we felt drawn to be there in person to lend our physical presence.  Immediately we were overcome by the historical significance of what was happening and by the love, acceptance and spirituality of the camp.  People from all races, nationalities and religion were in attendance and everyone was filled with love and joy as well as sadness about what was happening.  After finding a place to settle during our stay, we walked around to orient ourselves and to let the spirit of the gathering enter us.  Almost right away we were welcomed to the sacred fire and were honored to be invited to dance around the fire to the drums and singing.  These old bones are still feeling it.  At one point, a young native couple took our hands, one on either side, and each sang quietly as we danced around the fire.  We felt especially honored and individually accepted.  It amazed us that we were considered elders and were shown respect and were given special treatment the entire time we were there.
The next morning we joined a pre-dawn procession to the endangered Missouri River for a Dakota prayer service for the water and the sunrise.  There was light snow on the ground, the temperature was below freezing  and people had not had their coffee yet but there were over 1,000 people at the service.
Later that day we were given a special honor and the two of us were invited and escorted to the camp of the Seven Councils and to the tipi of one of the Dakota leaders.  It turned out that he is also a Winnebago and one of my relatives.  What a wonderful, intelligent, caring and powerful person he is.  We had a nice visit, talking about our relations, and then he and others educated us on what they were doing and some of the history of the treaty rights they are trying to enforce.  The Seven Councils of the Great Sioux Nation have not gathered together in hundreds of years so to to be invited to join them at the circle of tipis  of the Seven Councils at this historical moment is an honor that we will always respect and remember with grateful hearts.
We met so many wonderful, kind and selfless people there including a Tlingit Native from Ketchikan, Alaska, an Army veteran, who had given up his job and drove to Standing Rock to offer his services as an automobile mechanic for the camp while expecting nothing in return.  We shared many hugs and he gifted us with a jar of precious salmon from Ketchikan.
In spite of all the love and harmony within the camp, all of that changed in an instant when it was announced during our orientation to the camp that the camp was once again coming under attack by the brutal, militarized police.  Women, children and elders were directed to a certain area of the camp or to leave camp completely.  The entire atmosphere of the camp shifted immediately.  The police attacked peaceful, prayerful water protectors once again with water hoses, pointed assault weapons  and then destroyed canoes that were on hand in case people were chased into the freezing river and needed to be saved.  The police cared not for the safety and well being of the people they are sworn to protect and instead are showing their true loyalties to the oil companies and profits for their investors, which include the Morton county sheriff and the North Dakota governor.
Just two days before, peaceful water protectors were sprayed with water in freezing temperatures, shot with harmful rubber bullets and bean bags and explosives causing many injuries including one woman whose arm was blown partly off so threats of attack are to be taken seriously.
If you are going to Standing Rock please go soon, leave your expectations and your interpretation of Native culture behind, check with the Standing Rock facebook page or website for rules and guidelines and go there with peace and non-violence in your heart.  Make sure you bring your own shelter, food and water and share whatever you can.  If possible make monetary donations to official sites.  Most importantly, contact your Senators, Representatives and the White House and tell them to stop the Dakota Access Pipeline and to stop the violence against the peaceful water protectors.  Contact them over and over again.  Peace.
---
From Bill Griffith:
We had a wonderful day, met a lot of nice people, including a number of VFP members and I believe we showed our solidarity with the Native Americans.
---
From Don Kimball:
Last week I went looking for America. What I found after 2,700 miles, subzero temperatures and blizzard conditions was what I think many would call an America they could be proud to call home.

I was fortunate enough to be able to go to Standing Rock, North Dakota the site of a massive protest to stop the Dakota Access Pipeline. Although I spent as much time driving there as actually being there is beside the point. I witnessed an energy, a spirit, a gathering of Native Americans, veterans, young hipsters, old hippies and everyone in between who came from far and wide to be part of something bigger than themselves.

I left Las Vegas, NV with a lot of hope and not a little anxiety. As well prepared as I was for the one- two punch of a Dakota winter and a violent police presence, I wondered what I was getting myself into. After packing and unpacking twice before, when the call came from Veterans For Peace I knew that I had to go. With permission from my two cats, I headed for the high country, telling my Mother I was going "camping".

The DAPL project protests had been going on since before February, but it wasn't until the police attacked protesters with dogs, rubber bullets, concussion grenades, water and sound cannons, pepper spray and tear gas that America\ began to take notice. Following the four-step progression of these things, at first the small contingent of Sioux water protectors were ignored. Then, as the camp on the Missouri grew larger with other Native Americans joining the struggle, they were were laughed at. Next, they were beaten up by the militarized police force on the bridge. Many suffered from the brutal police attack, with some receiving serious wounds from concussion grenades and the rubber bullets. Others had hypothermia from being sprayed with water in subzero temperatures. The forth step is you win and we did. The US Army Corps of Engineers on Monday instructed Energy Transfer Partners to stop building the pipeline carrying Balken oil until an Environmental Impact Statement was completed!

The timing of the ruling was not by accident, for the very next day a showdown was coming between the militarized police force and the thousands of unarmed veterans who had arrived to place themselves in harm's way. It never happened, and although ready to go up there on the bridge where others had bravely stood, we didn't have to go. We called their bluff.

Back home now by the fire with the cats I feel very privileged to have worked with so many great folks. People brought clothes, food, firewood and lots of good vibes. The Sioux nation opened their hearts and homes to us in the cold and the snow. The fight is not over there, but this is the best we could hope for, for now. To all the water protectors who continue to stand vigilant against any further transgressions by ETP, stay warm and stay strong. We are with you. One people, one water.
---
From Tom Songs, Colorado
I first learned about the Water Protectors at Standing Rock and their mission to fight the "Black Snake" through alternative media sources since MSM was mostly silent on the topic. I saw video footage of police brutality against these people and the violence seemed to be one-sided. Similar to my trip to Crawford, Texas to meet Cindy Sheehan and my experience in seeking the truth about the Iraq war years ago (the reason I originally joined VFP), I decided I would ride my Harley up from Colorado and get a first-hand look at the situation. As a former FMF Corpsman turned Nurse (AKA Songwriter with a day job) I wanted to assess the medical need there and provide any support I could.

That first visit to Oceti Sakowin Camp in November provided all the clear perspective I required to determine this was simply a bunch of local bullies with badges and former Blackwater creeps, now known as TigerSwan, violating civil , constitutional rights and providing armed cover for a corporate entity. These are peaceful, prayerful people trying to protect their water and their land. The arrogant illegal blockade of public Highway 1806 and the use of dangerous ammunition against Americans on American soil absolutely disgusted me. I had researched the historic treatment (more like willful and calculated eradication) of First Americans at Wounded Knee in 1890 and again during the occupation in 1973 . In 2015 I rode through Little Bighorn in Montana to better understand why Custer and his men were killed and brutally dismembered there after yet another treaty element was violated for the sake of gold. (spoiler alert……they deserved it).

Now the prize is oil instead of gold but the GOV strategy has never changed – dump the risky developments on the Native Americans. As a Veteran, I have learned that the majority of our enemies during the past several years are Domestic! Our Oath is real to me and now more than ever, we have to rise up both individually and as a large group when we witness tyranny at home.

I left VFP after Obama was elected in part because the empty promise of hope and change never happened. Investigation and prosecution of bushco for war crimes never happened. I came to realize that the game was rigged on both sides of the aisle and America has been duped or dumbed down to a one-party oligarchy. I had also received unwanted attention from GOV and a visit at my home for Q&A by two CIA agents (One was James Olson). I essentially shifted my focus to self-preservation for me and safety for my Family. Standing with Standing Rock has reactivated my focus on protecting against enemies domestic and I believe a Trump presidency is bound to accelerate this domestic tyranny in short order. For this reason, and especially after caring for Jim on the ground , seeing VFP again up there in North Dakota, I re-joined VFP.  

During my time at Oceti Sakowin Camp this past week, I was prepared to provide tactical medical support whether in a peaceful setting or up front at the Backwater bridge. With thousands of Veterans joining the mission, blizzard conditions created new logistical and medical challenges across the camps.   Bitter cold, ice and snow made it difficult for many to move about the camp or the roads and we dealt with a range of minor injuries related to slip /fall or cold exposure.
Thankfully, there was no major skirmish at the bridge this time, DAPL was denied the easement to drill under the water and I did not have to break out any tactical gear. I am keeping my gear ready though and based on new developments there, another visit to Standing Rock might need to be scheduled in the coming weeks.
---
From John Spitzberg, Willow, Alaska
The Sioux were welcoming; the weather not so happy to see us. Chaos greeted many of us who represented veterans organizations and yet there seemed to me to be a sense of purpose and readiness to do what we were asked by the tribal leadership.  We marched, we prayed with the indigenous people, carried wood, worked at jobs we had some experience in ( I am a retired paramedic and social worker and so I did some work in those lines) and generally suffered together due to snow, cold, wet and difficult living arrangements.  I came back with a chest cold as did so many others.  I made some new acquaintances, saw people who I knew from other social protests such as SOA, Chicago, New York, etc.  There are many sides to this situation and I am not part of the "deciders" either in VFP or any other venue. I believe that in the coming months there should be a mechanism for open discussion concerning what all of us experienced.  For my part I am happy that I went and was able to be a part of this historic event.  Lastly, I am committed to all people in the world having clean water, the right to enjoying peace and social justice.  I believe that there is a major conflict of interest between the corporate capitalist and the values, traditions and way of life of those of us who care more about our fellow human being than money. May the situation at Standing Rock and other parts of the Dakotas be solved in favor of humanity.
---