This space is dedicated to sharing your stories.
The personal story of the individual Veteran For Peace is the most powerful tool we have to educate others on the reality of war. Its 'brutality, futility and stupidity' in the words of President Eisenhower.
Please share the story of why you became a member of Veterans For Peace. Statements will be archived on this page along with photos and introductory highlights.
---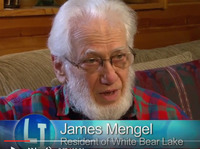 James Mengel
White Bear Lake, MN
Veteran Member
In 10-minute video is my story of involvement in Phil Berrigan's first arrest re the Vietnam "war"--The Baltimore Four" Friday 10-27-1967.



---
Thomas Bayard
Veteran Member
VFP Chapter 31 in Philadelphia PA
Strangely enough, I was very upset after coming home from Vietnam. One of the things I did after getting out of the army, etc., was to join VFP, as well as VVA, VVAW,WRL, and Pacem in Terris, our local peace group. Being associated with peace groups, both of vets and regular civilians, has been a life-saver for me. I love supporting peace and nonviolent groups. Long may they exist!
---
Paul Dordal
Veteran Member
VFP Chapter 47 in Pittsburgh, PA
I joined the Army in 1984 out of need to find a new direction in my life.  My three years of Army life showed me that the U.S. military/government and its policies were antithetical to my inner belief in pacifism. Nevertheless, I served honorably. I opposed Gulf War I in 1990, and marched in New York to show my opposition.  In 2003, I again marched and voiced my opposition to Gulf War II.  I was serving as a pastor of a church at the time and joined the anti-war movement.

In 2008, I was asked by a local reserve military commander in Pittsburgh if I would consider re-entering service as an Army Chaplain.  After much thought, I believed I could help men and women in uniform deal with the horror of war.  I went to Iraq in 2009, and once again came back with a stronger inner knowing that all war is wrong. I went through counseling for PTSD, and began to reflect on my tacit support in the senseless and immoral killing of humans.  I no
longer will support war, nor remain silent.
---
Larry Johnson
Veteran Member
VFP Chapter 27 in Minneapolis MN
I was a veteran, for peace, the day I was discharged, April 27, 1972, but I didn't know the organization till the late 90s. I grew up a "literal Bible Believing" Christian.  In the 60s I encountered the historic peace churches, particularly the Mennonites and Church of the Brethren, with their "literal Bible belief" that the early Christians wouldn't kill in war. I researched it and wrote a conscientious objection statement based on this, but signed the blank, "If I get drafted, I'll be a medic with no weapon to kill".  I'm an educator, teaching much about peacemaking, and began running into Veterans For Peace at State Teachers Convention.  I was intrigued, but filed it under "later".  When we invaded Iraq, I was aghast, thinking "Haven't we learned anything?" During one of those gigantic HONOR OUR WARMAKING events, disguised as an "Honor the Veterans" ceremony, I became violently and emotionally ill.  I went home and joined Veterans For Peace, and that has made all the difference.
---
Ray Ruthenberg
Veteran Member
VFP Chapter 27 in Minneapolis MN

My journey to VFP started long ago ( but I just joined) As a "snipe" (boiler tender) on the USS Brush (tin can) 1957-1960, I lucked out and saw no military action, and was stupid as to the "whys" of the huge US military machine.
Reviewing all the losses in all wars since WWI, and Major General Smedley Butler's statement that "War is a racket" (for profiteers), I realized he was right.  Korea, Viet Nam and the now 24 year conflict in Iraq and Afghanistan, to me, proved that the US has an agenda, and it's certainly not for peace.
Lets work for peace and save our kids and grandkids from war, high taxes and an astronomical national debt.
---
Chip Henriss
At Large Veteran Member
Australia
I joined VFP as an Australian member. I was born in the US and came to Australia in 1987 when I jumped ship (I went AWOL) from the USMC. After sorting that out about a year later, I felt bad about leaving and joined the Australian Army Reserve Officer program. I became an Infantry officer and later a Public Relations officer.
As I grew up and saw the realities of the "reasons for war", I realised I had to oppose war as part of a wider revolutionary struggle. What this means is that the same people who profit from war
are the same people destroying the environment at large, slashing social spending and greedily attacking weak countries for their resources.
I served in Papua New Guinea delivering drought "aid" in 1997, I was a Peace Monitor on the Island of Bougainville which suffered a nine-year civil war over an Australian mine and most prominently I was with the first troops to land in East Timor with INTERFET in 1999.

In solidarity

Chip
---
Chris Knudson
Veteran Member
VFP Chapter 974 in San Luis Obispo, CA
I was a dumb and bored 17 year old who thought it would be a great idea to drop out of H.S. and join the army in 1971. Despite excelling at basic and being promoted rapidly, it didn't take long for me to see that what they were telling us did not match with what I was seeing and reading about for myself. I began reading everything I could get my hands on and listening and talking to the likes of Pete Seeger, Arlo Guthrie and Phil Ochs at every opportunity. Eventually I was either going to join S.F. or become a C.O. They tried to talk me out of going C.O. even after 6 Article 15's. Became involved against SOA and the end was near. Finally, my Captain came to me and said "We don't like you and you don't like us, would you like to take care of the horses and rodeo stock (Ft. Campbell had a rodeo team) and stay out of trouble until you ETS? Worked for me. SOA really opened my eyes, after that everything else just fell into place. Knowing the
truth, it just isn't my nature to do nothing...
---
John Ivens
Veteran Member
VFP Chapter 161 in Iowa City

In conjunction with Iowa VFP Chapters #163, #169, and other peace groups, VFP #161 is planning an Iowa speaking tour with Ray McGovern and Coleen Rowley on topics of foreign policy and national security.  The tour will begin on September 24, 2015.  Our current planning has the tour beginning in Des Moines and moving East to Iowa City/Cedar Rapids, Field of Dreams in Dyersville, and Davenport/Clinton.  Ray has suggested a title for the tour:  "The Truth will keep you Free".  We're hoping to introduce issues into debate that presidential primary candidates may try to avoid as they campaign for the Iowa caucases.
---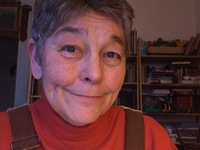 Pamela Allee
Associate Member
VFP Chapter 72 in Portland OR
I grew up on military bases, and lived on Okinawa not too long after WWII.  I saw first-hand the damage done by war and military occupations, including rape and death from "unexploded ordinance" being disturbed by farmers, children and fishermen.  My Dad had frightening bouts of "temper" and we were surrounded by families living within the prison of domestic violence.  For these experiences and more I ewdirect my federal taxes, at least until US policies at home and abroad become truly moral and support Life on this planet.
I may not have served in the military, but I am nonetheless, a veteran.
---
Gerald Bone
Veteran Member
VFP Chapter 166 in Knoxville, TN

It was summer on Okinawa, 1959. I was a young Marine LCpl, on radio watch. The duty NCO, a Chief MSgt named McAfee dropped in to check my post and have a cup of coffee. It was cool in the radio shack so the sergeant stayed a while. We talked. Not very far from us was a ship. On that ship was a group of Marines dubbed the "floating battalion." I asked the sergeant how it might be to volunteer for the battalion. After a long silence he began to tell me his story. Volunteered for WWII. Mustered out, then called back after several years to serve in Korea. Whatever happened in Korea seemed to have changed him. I don't know. I do know he left me with the impression that serving in the Marines was not about serving your country--or its people. It was about serving the interests of a few very rich, very powerful people. I've been anti-war since Vietnam; it was Sgt. McAfee who made me a Veteran For Peace, and probably saved my life.
"Semper fidelis," Sgt. McAfee, "wherever you are."
---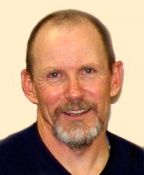 Joey King
Veteran Member
VFP Chapter 089 in Nashville TN

I was a paratrooper in the Army from 1984-87. I became a member of Veterans For Peace because everytime I would go to a peace rally in Nashville, I would see guys holding signs with the VFP logo and got curious. I have been opposed to war since the first Gulf War. VFP is a unique organization because it utilizes the veterans special voice on the most important issue confronting our society, that of peace.
---
Mike LaFrance
Veteran Member
VFP Chapter 032 in Miami FL
I joined the Navy following law school graduation in 1962 for four years. I extended for an additional year following the Gulf of Tonkin Resolution. The President lied. He also stated that our mission was to bring peace, though it was "peace" at the end of a rifle. My five years in the Navy were learning years. I learned to value human life more than luxurious lifestyle. I learned Presidents and politicians may have different values &have put men in harms way to protect oil & lifestyle.Thousands of our men were killed.
Since then, I have learned that peace is not fear, and peace at the end of the rifle is not peace. When our foreign policy equates military firepower to terrorize until submission, we end up as the victims of hatred and fear. It was exciting to hear a Presidential candidate state he would go anywhere to meet face to face with anyone to negotiate peace. Drones went instead to terrorize. I want peace through diplomacy and cooperation. May God protect us from ourselves.
---
Mark Runge
St. Petersburg, FL
Veteran Member
I served in the Regular Army from 1988-1992. Part of that service was with the 5th Combat Engineer Group during Operations Desert Shield and Desert Storm from 1990-91. My time in Iraq participating in the brutalities of war left me scarred, and since my Honorable Discharge (I took the early-out option because I was as done with the Army as they were with me.), I struggled with reconciling my war-time experiences in the civilian world. Finally fed up with our governments illegal actions in Iraq and determined to assuage some of my guilt, I traveled to Washington D.C. in 2005 to protest. I was prepared to do whatever it took to have my voice heard, even knowing that one voice was not enough. It was here that I fell in with Veterans For Peace. I returned to the Tampa Bay area and immediately became involved with the local Chapter 119, and have remained active since then. I have since been arrested three times in my search for peace.
---
Michael Clift
At Large Member
San Francisco CA


I served in the US Army during the Cold War, and some "unfortunate" things happened to me, and my fellow soldiers that I could not reconcile with my desires for myself and humanity. The violence, greed,incompetence...the fear vibration, the predatory environment where obedience and submission were the "pillars" of loyalty and honor, the deaths I witnessed, from hostile fire and training "accidents", all I wanted to do was get out. Escape back into civility, and thus, after my time in the Army,I set out to forget what happened to me, and I fell into a very functional albeit stoned mainstream lifestyle. For the next 25 years I went to my job, paid my rent drove my cars and motorcycles, went to my concerts and sold my art work for thousands of dollars. That all changed when I got off the drugs and the scales fell from my eyes. What had happened to the people of our country? Where did the "America" I grew up in and loved disappear to? This is my chance to repair the damage I was part of.
---
Paul O'Dell
Venice, FL
Veteran Member
I am a Navy Veteran having served during Vietnam. I marched with Vets for Peace back in the early 70's when we marched with the Vietnam Vets Against the war in DC, as well as numerous local marches. I am the son of WWII Combat infantryman who was shot 3 times, once in the head-100% disabled. I worked for the Veteran Affairs counseling, adjudicating claims. I was fortunate. I was not in combat, but I have experience war from every other angle. War seriously injures veterans physically and mentally, and scars the wife and children of veterans. My father had TBI, though we didn't call it that. Watch him sleep and be quiet were the rules in my home as a child. The impact of the war on vets and family is illustrated by two comments of WWII veterans and my mother. Three days before my father died and 48 years after injury, he awakes in the hospital and asks, "I am not in the war, am I?". The second comment, my neighbor, 68 years after the war "I am still not right". My mother, when her and dad talked about the war, "you ate dirt while I ate shit caring for our two boys and worrying about you".
---
Ramon Nacanaynay, VFP Chapter 134 in Tacoma, WA
Puyallup, WA
Veteran Member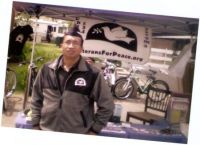 After serving from 1986-90 in the USAF as a radio maint. tech for Combat Control at McChord AFB, WA I got out, used my G.I. bill to become a nursing asst., then an Early Childhood Educator. I was
involved in the attempt to unionize child care workers and then found out that we were in the middle of someone else's civil war. In my catholic church the priest mistakenly announced an anti-war march and rally. He had to apologize the following week because someone felt "no longer welcome in the church". I eventually found Pax Christi USA and Veterans For Peace. My father is retired navy and a retired gov't. civil servant. My older brother is a retired AF and a gov't. civil servant, my younger brother is in the naval reserve who has been to Iraq and is due to deploy to Afghanistan. My family can be "labeled" as a conservative, Catholic,and Filipino. I'm frustrated that I am the only one of my background that holds my self to the higher standard of peace activism in Pierce county WA.
---
Patrick Eddington, 016 - Washington, DC
Annandale, VA
Veteran Member
My war was Desert Storm, though unlike many of my contemporaries I
fought it from a light table at a 24 hour watch center, writing
intelligence reports on the Iraqi invasion of Kuwait, and then the war
itself. The threat of potential chemical weapons use was a constant
concern, but during the war the official word was "Nothing happened,
all false alarms". As I would subsequently learn later in my tenure at
the CIA, that was a lie.
I resigned in protest from the CIA in 1996 and subsequently wrote two
books that dealt with what became known as "Gulf War Syndrome": Gassed in the Gulf and Long Strange Journey. Through my work in VFP, I'm keeping faith with vets of all eras.
---
Daniel (Dan) Shea
Current Board member and Member of Chapter 072 in Portland, OR
Veteran Member
I joined VFP because after I joined the USMC March 1968, I had witnessed corruption of black-marketeers, the vicious cruelty of one Drill Instructors and the lies we were told and was never comfortable with the racist language demonizing the Vietnamese. August 1968 I arrived in Da Nang Vietnam with incoming mortar attack within minutes of stepping off the plane, the reality of the war impressed upon me my mortality and the meaning of life. I became a post war victim of Agent Orange, my son Casey was born with birth anomalies one being a heart disease that eventually took his life after a surgery in 1981. These events all became many points of awareness that began to penetrate my consciousness and eventually led me to the work of Veterans For Peace. I saw a need for veterans to raise our voices in unison to help bring awareness and courage to the slumbering masses that had let their collective powers slip from their fingers to the military industrial complex and corporate profiteers.
---
Gregory Helle, 163 - Des Moines, IA
Johnston, IA
Veteran Member
As an 18 year old farm boy, I found myself half way around the world in a war that I did not understand. After two years at war, I found myself living in fear and even after 43 years I still see the war
daily. I have become disabled with PTSD. Now we are generating a new crop, harvesting our young for unethical wars. I paid a huge price, and I want no one else to have to live as I have. I helped start chapter 163 in Des Moines, it was necessary that I stand up for peace... because I know my war or any war does not solve problems... it on perpetuates itself leaving many like myself in its' wake.
---
Evan Knappenberger, Startup chapter in Charlottesville, VA
Charlottesville, VA
Veteran Member
I joined the army in 2003 at the age of seventeen. I was an Ayn Rand
atheist and gung-ho for some action, and democracy, saddam and WMD
were the only pretense I needed to get down to business with those
evil terrorists... except that I ended up doing nothing for democracy,
hurting and killing innocents, and I was suddenly the terrorist.
I have spent the last five years fighting against wars and injustice.
It's been a hard road with Stop-Loss, PTSD hospitalization, jail,
divorce and heartbreak. But VFP gives me hope for the future.
In the end, all political and ideological change is superficial; what
we need is radical moral change. I believe that Vets for Peace gives
us that, which is why I am re-starting the Charlottesville, Virginia
Chapter (962).
Please join us in the only work worth doing! We will prevail. We
must prevail. We will build a world free of warmongering and nuclear
weapons!
---
Robert Whealey, Central/Southern OH Chapter 923
Athens, OH
Veteran Member
I became an intellectual pacifist in the US Army in Germany in 1955 at age 25. This was followed by a Ph.D in diplomatic history and teaching international relations for 40 years. About 1983 I went to a SANE meeting in Cleveland, Ohio and met an ex-sergeant selling VFP hats. I became an at large member with two others from Athens, Ohio. The three of us went to national meetings in Pittsburgh, Pa and Harrisburgh, Pa. My Colleague Charles Overby went to two or three other national meetings. The two of us joined the Circleville, Ohio chapter 4 or 5 years ago.
---
Ken Barger, Indianapolis Chapter 049
Indianapolis, IN
Veteran Member, Lifetime Member

I went to Vietnam to fight for Freedom and Democracy. In one operation, I looked down from a helicopter and saw two Viet Cong. I looked at where they had disappeared, and as far as I could see there was only death and destruction. I thought, "You know if I was a Vietnamese peasant I'd be out with the Viet Cong fighting the Americans." What the hell had I just thought? I decided that this war had nothing to do with Freedom and Democracy, and that we were killing people and destroying the homeland of people defending themselves from invaders... just like we would do. But it took me years to come to recognize what fighting in a war had done to me. "War is hell" is not about the threat of death... it's about the kind of person I became in war. Having learned the worst I could be as a human being, I decided that now I wanted to work for an America that lives up to our ideals, a people who not only turn away from policies of war but who truly promote peace and justice in the world.

---
Andy Berman, Minneapolis Chapter 027
St. Louis Park, MN
Veteran Member
1969, yet another Vietnam demonstration. We had been marching for many years. This action at Fort Dix, NJ was a bit more daring than usual. The plan was to get on base and bring our anti-war message to the soldiers.We really didn't expect 100 of us to go unopposed onto the base! But we did! Very quickly there came straight towards us a platoon of MPs wearing teargas masks. Without warning they sprayed noxious gas directly on us. We tried wet cloths with vinegar, but we got soaked by the gas. Choking and blind, we scattered back off the base. The shattering psychological effects of the gas were even stronger than the physical ones. Clarity came. There wasn't any more doubt in my mind. The best thing I could do to end the damn war was to bring antiwar politics into the military. Soon after I enlisted. For 3 years I walked a bit of a tightrope as a "RITA" (resister in the army). The photo is a march of GIs with an anti-war anti-racism message outside Fort Bragg in 1971.
---
Bill Duroe, Greater Seattle Chapter 092
Seattle, WA
Veteran Member
As Obama's"clay feet" approached his neck, I admitted that the conventional liberal Democratic Party was hopeless as a vehicle for necessary progressive moral change. As mistaken as the VN War was, I strongly identify with the "poor bastards" like me who were sent to further our Imperial delusions. We know how false our government can be! Shortly after I joined VFP 92, my nephew's Chicago home was raided to intimidate dissenters. That strengthened my conviction that our nation's best hope was direct citizen action. Bill Duroe RVN 1966-68
---
Jim Thomas, VFP Chapter 097
Kansas City, MO
Veteran Member
When George W. Bush then president started the macho BS (draft dodging sob fighter pilot ) i decided that if I went to viet nam (volunteered for the navy 2year reserve } I should join veterans for peace..
---
Bob Cable, Smedley Butler Chapter 009
Somerville, MA
Associate Member
| | |
| --- | --- |
| | When Nate Goldshlag coordinated the Smedley Butler Brigade, he was also involved in activism for Palestinian human rights, as was I. When I heard from him about VFP I thought, "They're brave to change course and fight AGAINST war, but they sure need reinfocements!" So I joined as an Associate Member (ex Peace Corps Volunteer), and I'm glad I did! |
---
 

Mike Ferner, Past National Board Member, Past National President
Toledo, OH
Veteran Member

I enlisted in the Navy in 1969 as a Hospital Corpsman, in large part to avoid the draft and do a job I thought would be morally acceptable in a branch of service with a sharp looking uniform. However, the first day of Hospital Corps school revealed an unsettling truth. The first page of our instruction manual said "The purpose of the Naval Hospital Corps is to keep as many men at as many guns as many days as possible." Working at a Navy hospital for a year, taking care of hundreds of young men torn apart in Viet Nam and Cambodia, I came to the conclusion that doing ANY thing in the military was supporting the war. I decided to become a conscientious objector. After being discharged I didn't care to get involved with traditional veterans' groups, but one day I saw a photo of a demonstration in Chicago that showed a couple vets in the VFP garrison cap and decided that was the group for me! Getting involved with VFP has been one of the best decisions I've ever made.
---
Erik Lobo, Cpl. Joseph E. Powers Chapter 026,
Chicago, IL
Veteran Member
I went to Camp Casey in Crawford, Texas in August, 2005. That's where I first heard of Veterans For Peace. When I went back to Camp Casey at Thanksgiving of '05, we formed the Camp Casey chapter of VFP, and unanimously elected Col. Ann Wright as our president. I then went home to Chicago and joined chapter #26. So my close friend Cindy Sheehan caused me to find VFP-- Stay strong and keep smiling ---- Lobo
---
---
Jon Hutchinson, Member @ Large,
Silver Lake, NH
Veteran Member
VFP for many years has provided a consistent program of working for peace by fighting openly against the endless unwinnable wars in both Iraq and Afghanistan. In America we need such a voice to encourage veterans, their families and all of us to know thst peace will come if we are willing to act and speak out. This, the VFP, is a such a voice . Thank you
---
Woody Powell, Don Connors Chapter 61

St. Louis, MO

When I look out at a gathering of Veterans For Peace, I see strength derived from brokenness and disillusionment. I see humility, courage, gentleness and good humor. I see the unshakeable, activated conviction that humanity need not destroy its village in order to save it.

---