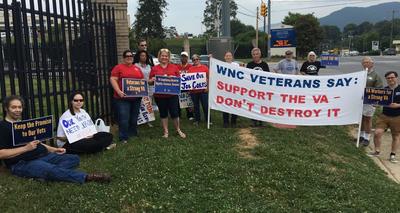 Help Fund the Save Our VA National Campaign!
The campaign to SAVE OUR VA, Strengthen the VA's ability to provide world-class, integrated healthcare to nine million American veterans, and Stop the Outsourcing of veterans healthcare to underqualified private-sector facilities requires financial support from people like you!
We ask you to help us fund our ongoing efforts across the nation to:
Organize virtual and, eventually, in-person events that inform local veterans communities and their supporters about the many issues impacting the future survival of VA;
Encourage and facilitate the creation of local SOVA Action Teams that organize local demonstrations, raise public awareness and activate citizens to join the SAVE OUR VA National Campaign;
Continue to monitor Congressional legislation and create Calls to Action (CTA's) letter campaigns that focuses and amplify citizen voices in putting pressure on Congressional members to support or oppose specific legislation; and
Plan our future SAVE OUR VA National Conferences in Washington, DC to gather and lobby Congressional members to protect, strengthen, improve and expand the VA
The Save Our VA Campaign needs your help. Please donate to support our efforts!
Veteran For Peace is a 501(c)3 organization. All contributions are tax deductible.