Every year, Veterans For Peace Memorial Day commemorations focus on the true costs of war. We remember not just fallen U.S. service members, but all who have died in war. In recognizing the human toll of war as well as its devastating effects on all living things, we are reminded that war has no winners.
As veterans, we know the legacy and culture of violence U.S. militarism wreaks on our society. Each Memorial Day, we renew our commitment to work—at home and abroad—for a world at peace that values the lives of children more than the profits of weapons makers. 
A few photos are posted below. To view more, see our VFP Memorial Day 2023 photo album here and click on other links provided in the chapter reports below.
If you took action for Memorial Day 2023 and do not see your event posted below, please send your report and photos or video links to press@veteransforpeace.org so we may add them to this year's recap page. Thank you!
VFP Chapter Actions & Observances
VFP Chapter 9 – Smedley Butler Brigade – Boston, Massachusetts
The Smedleys organized their traditional Memorial Day display-protest-march-commemoration this year, and came away with an excellent photo-story captured by photographer Edward Boches [@edwardboches | edwardboches.com]. Look for the rainbow flag in our Memorial Day 2023 photo album. 
VFP Chapter 19 – Riverside/San Bernardino 
On Memorial Day, Monday, May 29, 2023, Veterans For Peace Chapter 19, along with the Palm Springs' American Veterans (AMVETS), hosted their 17th annual award luncheon at the Cimarron Golf Resort in Cathedral City. The event was organized by VFP chapter head Tom Swann Hernandez (third from right in photo), who is also the founder and commander of the local American Veterans (AMVETS) Post 66. In 1978, while Tom was serving in the Marine Corps, he toured the Nazi Dachau Concentration Camp, and was shaken by the horrific scenes.  In 2000, Tom worked with the US 6th Army Color Guard to hold a memorial on the 55th anniversary of the liberation of Dachau by the U.S. Army. This year's award recipients included five Holocaust survivors.  Among them was Ella Brandt, who, together with her husband, Holocaust survivor Joe Brand, established the Holocaust Memorial at the Palm Desert Civic Park. Additional recipients included Darin Schemmer, Communications Director for Riverside County Supervisor Manuel Perez; Christy Holstage, Palm Springs Council Member; Wendy Allaire, Colonel Mitchell Paige's daughter; KGAY Radio; Donald Beck; and Sergio Carrillo, author. The event was accompanied by music and songs played by Steve Peterson.
 VFP Chapter 25 – Madison, Wisconsin
The Clarence Kailin Memorial chapter teamed up with Progressive Magazine again this year for a Memorial Day Peace Rally held on Monday, May 29, 2023, at Gates of Heaven Synagogue at James Madison Park. The observance featured keynote Matt Rothschild speaking on "No to War, No to Fascism"; music by Old Cool; Daryl Sherman reading the names of members who have passed. Additional speakers: Father David Couper, Norm Stockwell (publisher of The Progressive), and Will Williams.
 Click the image to watch the video! Available on The Progressive Magazine YouTube channel at https://youtu.be/cSOIWN4M4M8
VFP Chapter 27 – St. Paul–Minneapolis, Minnesota 
VFP Dave Logsdon reported a nice gathering for the Twin Cities chapter on Memorial Day. The event featured Native flutist Dakota Blue playing Taps on his flute; poets Strong Buffalo and Ben Weaver sharing spoken word; and Strong Buffalo doing a ceremonial smudging of the names on Minnesota's Vietnam Wall with his eagle feather.
ALSO in St. Paul, Walk Against Weapons of War hosted by Women Against Military Madness (WAMM). Saturday, 3 June 2023 at Lake Como, Saint Paul, MN. [photo] Chapter 27 member Roger Cuthbertson, chief architect of the sign, at the WAMM 'Walk Against Weapons' event in St Paul.
VFP Chapter 34 – New York City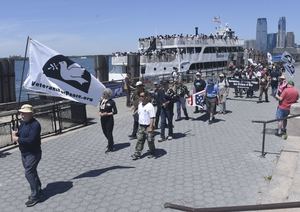 Carrying flags, banners, and a flag-draped coffin, NYC VFP led a "respectable" funeral march through Battery Park on Sunday, May 28, 2023. Starting and ending at the waterfront, the somber procession is a chapter tradition. Although both the procession and the tourist traffic were smaller than usual, participants managed to hand out 500 flyers recognizing ALL mortalities caused in U.S. wars, not just military dead. The stark black-and-white banner designed by Ellen Davidson was prominently featured in the procession. See Ellen's full photo essay, with captions, here.
VFP Chapter 42 – Connecticut
Jim Brasile reported Chapter 42 members had a good time walking in what they dubbed a "Peace NOT Anti War" Memorial Day parade in Norwalk, Connecticut. They were joined by Wilton Quakers, and special visitors, Golden Rule project manager Helen Jaccard and former VFP President Gerry Condon. 
The parade was officially titled "Thanks for Your Service" by the Norwalk veterans committee that organized it, and they passed out hundreds of these signs to the young families watching the parade. "We questioned why they were thanking us on a day set aside to remember those who sacrificed their lives and were killed in war. We suggested they reflect on how to limit continued war and violence in their name and to NOT to seemingly encourage it."
From their position at the rear of the parade, chapter members distributed 400 handouts with QR codes to encourage parents and teachers to study and share Howard Zinn's Memorial Day reflections. Members (including, notably, Bill Potvin) did their best to project an anti-war message. The rest of the day and evening were spent visiting and celebrating with Golden Rule crew members Ren Jacob and Bill Good, and Captain Kiko. The Connecticut Peace and Solidarity Coalition (CPSC) tracked Golden Rule's Connecticut activities on its website, HopeOutLoud.org.
VFP Chapter 72 – Portland, Oregon
A small group of Veterans For Peace Chapter 72 members and friends answered the call of Chapter President Dan Shea to gather at the Peace Memorial Park in Portland, Oregon, on May 29, 2023, to remember past VFP comrades, and to mourn for all victims of war. Dan convened the afternoon commemoration "to remember and honor all those who have been lost to the killing fields of war – our soldiers, those we fought, and the innocent civilian victims caught in the middle of war, a crime against humanity. May we reflect on the brutality of war, and pledge to War No More." The traditional chalking of the word "Peace" in different languages done by local artist Nancy Hess was incomplete, symbolizing (intentionally or unintentionally) the brokenness of a world torn apart by unending wars.
VFP Chapter 91 – San Diego, California
San Diego's 2023 Arlington West display got some excellent coverage from local PBS news station, "Anti-war group's Memorial Day display highlights 'true cost' of war," here. 
VFP Member At Large – Toledo, Ohio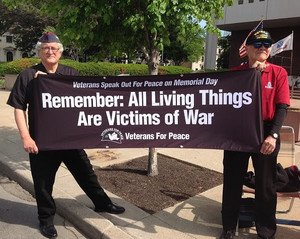 Mike Ferner holds up a large VFP Memorial Day banner with the help of Carlton Surtman (a new acquaintance), in front of the reviewing stand at Government Center where U.S. Rep Marcy Kaptur and state and local officials, along with a couple local veterans, were stationed during the Toledo Memorial Day parade. Ferner reported that two veterans came by after the parade to thank VFP for the "wonderful work you did" on the sexual assault issue, and said the banner (designed by New York City VFP member Ellen Davidson) got a half dozen salutes from passing veterans.
The Mighty Pen
This Memorial Day, Think About Honoring the Dead by Protecting the Living
OP-ED by Michael T. McPhearson | May 29, 2023
Michael T. McPhearson, former Executive Director of Veterans For Peace, is a U.S. Army CPT Combat Veteran. A human rights & anti-war activist, he is active in many movements including the movement for Black Lives, and presently serves as Executive Director of South Seattle Emerald.
"Like most U.S. Americans, I am weary of the near-daily stories of gun violence and killing. It's overwhelming. But unlike most people in the U.S., I have seen the pain and suffering in the aftermath of the violence. My experiences in more than two decades have pushed me to see that whether it's war, street violence, police killings, mass shootings, or suicides, the pain of losing loved ones is the same, and people always ask, 'Why?'  
---
To Honor the Memory of Those Who Gave Their Lives, Work for Peace
OP-ED by Travis Weiner | May 29, 2023
Travis Weiner is Vice President of VFP Chapter 187.
"As our nation honors its fallen warriors this upcoming Memorial Day, it is useful to consider how Americans currently perceive its meaning and significance, and whether that is how we as a nation should actually be thinking about, or spending time on, this sacred day. We owe [those who lost their lives] the courage to speak the truth about our wars."
Read Travis' full editorial at The Colorado Sun. 
A shorter version is posted on the VFP Chapter 187 website. 
---
Rebutting Memorial Day Mythology: A counterargument to unwitting disconnects in support of U.S. militarism
BLOG POST by Gene Marx | May 29, 2023
Gene is a longtime member of VFP Chapter 111 in Bellingham, Washington
In this response to a well-meaning Substack blogger's Memorial Day reflection, Gene posted a response along with his own reflection on his blog, Geno's Stuff Box. An excerpt:
I never met a single veteran who 'fought for democracy' or for any American's freedom. During today's wreath laying ceremony at Arlington, Joe Biden remarked that my friends 'dared all and gave all' in defense of America. Not a single friend of mine on Panel 2W of the Vietnam Veterans Memorial 'gave their life' during our failed, immoral invasion of Vietnam. Each life was ripped from them by war-makers who couldn't care less."
Read Gene's full Memorial Day post.
---
A Veteran for Peace
REMARKS by Paul Atwood | Boston Common | May 29, 2023
Paul Atwood is a member of the Smedley Butler Brigade – VFP Chapter 9 – in Boston, Massachusetts. He spoke these words at the chapter's annual Memorial Day event.
Paul Atwood is the author of War and Empire: the American Way of Life. 
"When was the last time a foreign army invaded the United States? When was the last time our 'national security' was really at stake? Was it Mexico in 1846? Spain in 1898? Even Germany in 1940 could not cross 30 miles of English Channel. By what means could it cross the Atlantic Ocean to fall upon Boston? I was taught as a schoolchild that the United States had gone to war against Hitler and Japan for the sake of freedom and democracy and in the case of Germany to save the Jews. But these were falsehoods as were the fabrications that brought us the Korean War, Vietnam and the so-called war on terror that really provided pretext for war in Iraq and Afghanistan. So, I ask you, what are the real reasons America goes to war?"
Read Paul's full commentary at CounterPunch. 
---
Additional Memorial Day–Veterans For Peace related links…