Memorial Day in Washington, D.C.
On Memorial Day morning in Washington D.C., Veterans For Peace hosted a ceremony at the Swords to Plowshares Memorial Belltower on the National Mall, followed by a solemn march to the Vietnam Memorial to deliver open 'Letters to the Vietnam Wall'.
Check out some more photos and videos on the Swords to Plowshares Facebook page!
"We provided a space for many to mourn and inspired many to work harder to help heal our hurting world and prevent more war trauma! We ARE helping 'Beat Swords into Plowshares!"
---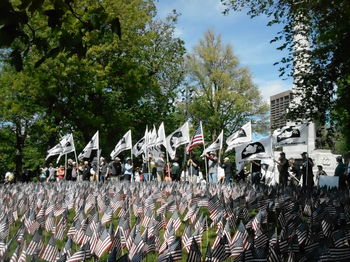 Chapter 9 - Boston, MA (Smedley Butler Brigade)
The Smedley Butler chapter hosted their annual Remember the fallen, Memorial Day event. After gathering at Park St. Station to hand out flyers, their bagpiper (Brian Quick) led a parade up to the Soldiers and Sailors Monument on the Boston Common. Several Smedleys (Dan H., Paul A., Ray A.) did Memorial Day readings, followed by placing carnations on the monument in remembrance of the fallen and a bell ringing for departed Smedley Brothers Jeff Brummer, Al Armenti and Henry Deeks.
"The purpose of this display is to show the public the cost of war," Camil said. "You hear a number like 6,957, you just see four digits in your head and move on. But when you come out and see the display, the enormity of that strikes you."
Chapter 14 - Gainesville, FL
This Memorial Day Scott Camil and the rest of Chapter 14 of Veterans for Peace laid out at least 6,957 tombstones to represent American service members who have died in the wars in Afghanistan and Iraq.
About 100 volunteers help set up the display and several are stationed there through the weekend to answer questions or, if need be, help find a specific tombstone of a fallen service member. Each tombstone displays the name, date of death, rank and hometown of the person who died.
News Articles:
---
Chapter 25 - Madison, WI
Every year for Memorial Day Chapter 25 reminds people of the human costs of war by setting up the Memorial Mile. Consisting of more than 6000 tombstone replicas, they stand in memory of the more than 6,675 U.S. soldiers who have lost their lives in Iraq and Afghanistan since 2001. The memorial will stand until June 1st. Read More.
In addition, the chapter hosts a Memorial Day observance and peace rally as an alternative way to celebrate Memorial Day. The event featured folk music, bagpipes, and a speech by state Rep. Melissa Sargent, D-Madison. To end the event, attendees walked outside of the synagogue to place red carnations on the Abraham Lincoln Brigade marker.


News Articles:
---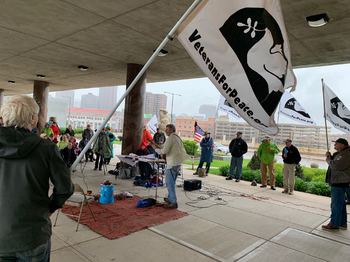 Chapter 27 - Minneapolis, MN
Chapter 27 hosted a very moving Memorial Day event at the Veterans Memorial near the Minnesota state Capitol. With around 50 attendees the event featured Native drumming, poetry, music, readings, and remembrances of lost loved ones.
---
Chapter 34 - New York, NY
Chapter 34 Commemorated Memorial Day on Sunday, May 26th, 2019 at the Waterfront in Battery Park. Bagpiper John Maynard and Drummer Paula Spiro led a procession with a flag-draped coffin through the park, and members distributed flyers about the true meaning of Memorial Day.  Chapter 34 President Susan Schnall spoke at the seawall during a ceremony commemorating those who have died in war, ending with remarks by 95 year old activist/actor Vinie Burrows, and the playing of taps by Bugler Frank Castillo.
The Raging Grannies, Bud Courtney and the Filthy Rotten System sang some songs, Jan Barry and Sarah Mess read poetry, and Soobok Kim spoke at the Korean Monument.
Watch Joe Friendly's video of the Commemoration for Peace in Battery Park.
Check out more great photos on Facebook.
---
Chapter 43 - Columbia, MO
Chapter 43 hosted a potluck picnic followed by a program including a remembrance of all who died as a result of war, a speech by Dr. Robin Blake, a presentation of chapter peace award, music by Steve Jacobs, and an open mic.
---
Chapter 50 - Traverse City, MI
Chapter 50 in Traverse City, MI held their annual Memorial Day Event/Display followed by taps and a reading of the names of Michigan soldiers who have lost their lives in Iraq and Afghanistan.
---
Chapter 72 - Portland, OR
On Decoration Day/Memorial Day Veterans For Peace Chapter 72, family and friends came together at Pioneer Courthouse Square to honor and celebrate WWII Veteran Will Pool who turned 93 years young and to heard him speak on the history of Decoration Day and how it became known as Memorial Day.
Afrterwards folks were invited to VFP 72 Peace Memorial Park and artist Nancy Hiss once again chalked the word PEACE around the circle in the languages of many of the peoples with whom the U.S. has been at war.
---
Chapter 80 - Duluth, MN
VFP Chapter 80 held their annual Memorial Day Monday Alternative Observance on the Lakewalk with music, readings, speakers, and community participation. Featured speaker Brooks Anderson spoke about the newly developed "Meditative Peacewalk" to reflect on the costs of war and violence and help us to commit ourselves to working for peace. More photos.
News Articles:
Memorial Day Ceremony at Lakewalk Honors Military Members
Veterans for Peace Honor Military for Memorial Day
Militarism In America
---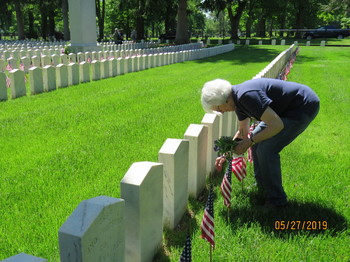 Chapter 90 - Broome County, NY
Veterans for Peace of Broome County held dramatized reading of Mark Twain's "The War Prayer" at Twain's Gravesite in Woodlawn Cemetery. At Mark Twain's grave (the chapter inducted Samuel Clemens into their local VFP Chapter and laid a VFP badge on his tombstone along with flowers), read Twain's War Prayer and dramatized it with a Mysterious Stranger who emerged from behind the tombs.
Reverent gathering offered up prayer for end of wars and then honored the war dead by laying on of flowers on random Union and Confederate graves in the National Woodlawn Cemetery.   They also laid flowers on random graves and on the grave of Union soldier John Evans, great great great grandfather of their own VFP Vice President, Larry Evans.
News Article: Veterans Group Honors Mark Twain, Calls For Peace This Memorial Day
Watch the Video: Veterans for Peace Memorial Day Event - Mark Twain's Gravesite by Vera Scroggins of Montrose, Pennsylvania
---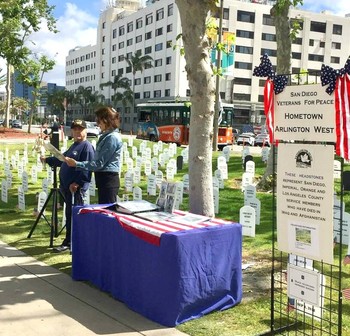 Chapter 91 - San Diego, CA
Each Memorial Day, San Diego Chapter #91 veterans honor the 300+ brothers and sisters from Southern California who died in the wars in Iraq and Afghanistan. Their "Hometown Arlington West Memorial" is set up on the front lawn of the USS Midway Museum and the names of each of the fallen are read aloud.
This year, Carla Melgun read the names, service, rank and age, as Stan Levin followed each with a single bell chime.
News Articles:
San Diego Veterans Honor Southern California Service Members On Memorial Day
Veterans for Peace host 'Hometown Arlington West Memorial' at USS Midway
Remembering Economically Strapped And Homeless Vets On Memorial Day
---
Chapters 74 & 93 - Detroit, MI
The Metro Detroit Chapter of Veterans For Peace hosted a display of the Arlington Michigan memorial. Each marker displayed has the photo, name, age, rank and unit of the 69 Michigan soldiers killed in Afghanistan and 161 killed in Iraq. The purpose of the display is to honor those who have fallen, provide a place to grieve, educate the public about the costs of war as well as the needs of those returning from war. More photos.
The event was co-sponsored by the Swords Into Plowshares Peace Center & Gallery which hosted a display of historical buttons. John Obee began collecting buttons from protest marches during the Vietnam War and his large and valuable collection includes buttons opposing both the Vietnam and Iraq wars. The buttons are conscientious objects - symbols of civil rights. The event was a rare opportunity to meet John, see his collection, and hear his experiences working for peace and justice.
News Articles:
Markers for Michigan soldiers killed in Iraq, Afghanistan on display in Grand Circus Park
230 crosses placed in Downtown Detroit, honoring Michigan vets killed in Iraq and Afghanistan
---
Chapter 110 - Long Beach, CA
This Memorial Day, members of Chapter 110 set up the Arlington West Memorial as they do every month to give thanks to and honor those who have served our country and particularly those that made the ultimate sacrifice and continue to remind the public of these ongoing conflicts and show the true cost of war. Unfortunately while volunteers monitored the display overnight the memorial was vandalized and a member was injured. Read the Full Article.
---
Chapter 157 - North Carolina Triangle
The Orange County Peace Coalition and Eisenhower Chapter 157 of VFP hosted a Memorial Day Commemoration for Victims of War. Featuring speaker Christina Cowger, co-founder NC Stop Torture Now, Eisenhower Chapter 157 Veterans For Peace, the event also included songs for Peace and Justice by the Raging Grannies, Mayoral Proclamations, Costs of War, Poetry and Readings, and the Playing of Taps by Doug Zabor.
---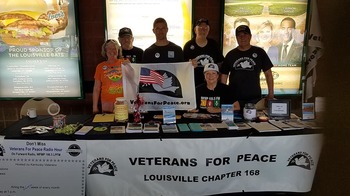 Chapter 168 - Louisville, KY
On May 25, over the Memorial Day weekend, a group of dedicated volunteers and VFP Chapter 168 members tabled at the Louisville Bats game at Slugger Field. The field was close to full and they reached out to 100 visitors or so discussing with them the VFP mission, cost of wars, etc. They were well received and even took in $100 donations. Many thanked the volunteers for doing what they do and will continue to do.

---
Read More
Check out this article from VFP Member Camillo Mac Bica: This Memorial Day, Let's Learn From Our Mistakes and End Illegal War