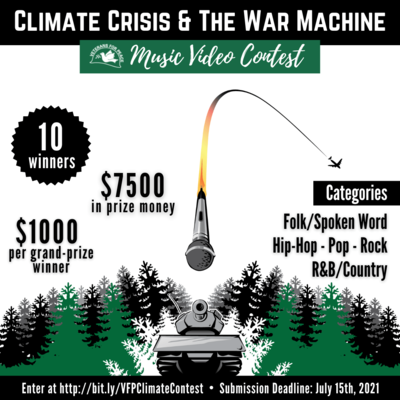 Veterans For Peace is asking artists to write songs and create music videos around the theme of "Climate Crisis and The War Machine." 
The "Climate Crisis and The War Machine Music Video Contest" is about making the links that break the chains of big oil.  We live in a visual world.  We are asking you to create visuals that speak truth to power. We, the people opposed to patriarchal hegemony and colonizer ideology, are the stewards of this planet, and we must act to protect it.  The US military is the largest consumer of fossil fuels and the largest producer of greenhouse gas emissions. It's time to challenge the status quo and free people from the illusion that war keeps us safe.
These videos will be featured not only as a part of the Veterans For Peace National Convention, but on our social media, website, and our Gamers For Peace Twitch Channel.  We will choose a first prize and runner up in each of the following five categories: Hip-hop, Pop, Country/R&B, Folk/Spoken Word, and Rock.  The music video can take many forms, anywhere from a live performance recorded on your phone, to a fully produced, multi-camera music video.  All levels of experience are welcome!  First prizes get $1000 each and runners up get $500 each.  In addition, each of the 10 winners chosen will perform at a concert for The Veterans For Peace National Convention on Aug 14, 2021.  (Official contest rules)
---
FAQ
What are the official rules of the contest?
You can read all the rules, including our conflict of interest policy, here.
Where do I submit my song?
Please send all submissions through this form.  Submissions will NOT be accepted in any other way.
How can I tell if my link is public?
On your browser, open up a "Private" or "Incognito" window. Paste your link into the address bar. If you can access your song without logging in or entering a password, your song will be accessible to our judges. If you cannot, you will need to adjust your privacy settings.
Do I maintain ownership of my song?
Yes! We do NOT claim ownership in the materials you submit in conjunction with the Song Contest.
Is the Contest International?
Yes! Submissions from any country are allowed.
How much does it cost?​
$20 per song​
What if we can not perform the song live on the evening of August 14th?
We are hoping to feature our winners on August 14th, so we really want our winners to be able to perform.
When is the Deadline?
15 July, 2021
When will winners be announced?
Winners will be notified by August 1st.  However, winners will not be publicly announced until the Veterans For Peace Convention, August 14th.
I still have questions, who can I ask?
 Please email jules@veteransforpeace.org with any further questions.