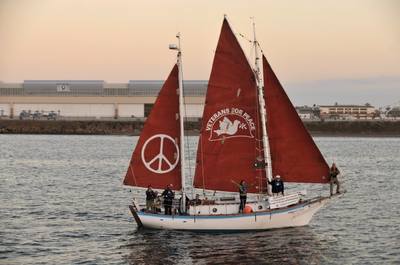 We aim to advance Veterans For Peace opposition to nuclear weapons and war, and to do so in a dramatic fashion.
We have recovered and restored the original peace ship, the Golden Rule, that set sail in 1958 to stop nuclear testing in the atmosphere, and which inspired the many peace makers and peace ships that followed.
In September 2022 we plan to take Golden Rule by truck to Minneapolis to begin "The Great Loop". The voyage will take 15 months and we will visit approximately 100 cities and small towns in 10,000 miles.
An interactive map of the route, is here. If you click on an icon you can see stop dates and event information.
 
Please see our brochure for a summary of the schedule. The entire schedule is here.
Help us spread the message to Abolish Nuclear Weapons!