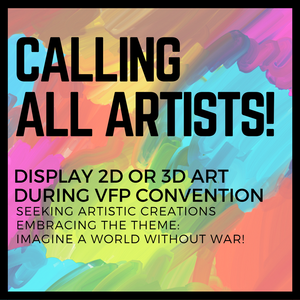 Veterans for Peace Chapter 27 invite 2018 National VFP Convention registrants to display 2D or 3D art during the convention this August.  We are seeking artistic creations embracing the following theme:   IMAGINE A WORLD WITHOUT WAR! 
We live in challenging times; it is easy to focus on the negative.  Some metaphysical theorists argue that thoughts precede action; we must be able to visualize and sense something in our mind and body before it can manifest physically.  The first step in creating a new reality is imagining it.   
Imagine if the Kellogg Briand Treaty had been honored?  Imagine if there had been NO wars since the Armistice of 1918?  Imagine how different would our world look/feel like?  Imagine a more beautiful planet, imagine how much healthier and beautiful our ecology and environment would be, imagine a healthier, more vibrant, less impoverished population.  Imagine a world where people are no longer forced to leave their homes, seeking refuge from war?  Imagine what a world free of war, hate and prejudice would be like? 
Installed in the registration/main gathering area, using color, texture, abstract or figurative art, our art exhibit strives to imbue the convention with beauty, light, positive thought and optimism. Something we can strive FOR vs. fight against. 
Work will be on display during the convention in the reception / main gathering area.  Most of the 2D work will be displayed on 3' wide pillars in this room.  (There is some wall space where wider work could be hung, please inquire.)  3D work will be placed on cocktail tables around the perimeter of the room. 
FORMAT GUIDELINES 
All forms of painting, drawing, photography, computer graphics, digital, collage, mixed-media, mosaic, textile and sculpture are accepted.   *No jewelry, video or sound art can be ccepted.  There are no electrical outlets. 
All 2-D artwork submissions must be framed and ready to hang with wiring in good condition (no saw- tooth hangers).  The hotel rules mandate the only acceptable hanging method is 3M Command Strips.  Each artist must bring one (or more) strips adequate to support the weight of their work.
Maximum 2D size (including frame):  38'' height, 26" wide.  (Because we will be installed  on pillars that are 3' wide, we prefer longitudinal work.  If your work is wider than 2', please specify.  There will be some wall space to accommodate wider pieces.) 
Maximum 3D size:  36'' height, 24" wide.  3D works will be installed on cocktail tables.  There are only 15 tables, priority to the first 15 email submissions.
Maximum weight:  25 lbs.
Artwork Drop Off:  At the time of convention registration.  Confirmation and further details will be sent after August 8.
Artwork must be removed when registrant leaves convention. 
The committee reserves the right to refuse inappropriate work.
SUBMISSION GUIDELINES:  Deadline for submissions: August 8, 2018
Every convention registrant is welcome to submit one piece of art.  Please email the following info by midnight August 8, 2018 to:  vfpsoaw@yahoo.com or fill out this form
Artist name
Title of artwork
Medium
Dimensions: H' x W'
Weight
Optional:  If artwork is for sale, include price and contact info.  Sales will be arranged directly with artist.
Wall tags will be provided and placed adjacent to art work.
Each artist is responsible for bringing/removing their work at the convention site.  Installation space will be issued first come.  Each artist will install their work under the supervision of the Art Committee.  Please note that the hall is not secured, your work will be displayed at your own risk and will not be insured.  Artists will be asked to sign a waiver holding the hotel and VFP harmless for loss or damage.  Artists are free to purchase their own insurance.  Artists may personally secure their work in a locked room at night.  Please note the area is not well-lit for art; this is an informal exhibition.
Questions?  Please email Mary McNellis at vfpsoaw@yahoo.com    Subject line:  Art Exhibit