2020 Board Candidates

| | |
| --- | --- |
| Adrienne Kinne | Dave Logsdon |
| Patrick McCann | Rory Fanning |
| Ben Schrader | Joshua Shurley |
| Skip Delano | Jan Ruhman |
| John Spitzberg | V.R. Partida |
Adrienne Kinne
Adrienne Kinne has been active in the peace movement since 2007, first with Iraq Veterans Against the War and currently with Veterans For Peace in the US and UK.  She served stateside in the US Army from 1994 to 2004 as an Arabic linguist, having enlisted during her senior year of high school. She has an educational background in psychology and social work, with over ten years of experience in a variety of positions with the Veterans Administration.  Since connecting with the Veteran peace movement, she has worked with organizations at the local, state, and national/international level. She is currently living in London with her husband and two daughters. Through the use of multiple online communications platforms, she has been able to maintain an active role on the board of VFP US and is also serving on the VFPUK policy group.
---
Dave Logsdon
My name is Dave Logsdon and I want your vote! We have, once again, put up an impressive group of candidates for the Board! I hope to give you a reason to choose me. I am a Vietnam vet, never setting a foot on Vietnam, but our ship traded gunfire with North Vietnamese guns so I am a combat vet though nobody died in my arms for which I am eternally grateful.
My involvement in VFP activism goes back to the ramp up to the Iraq War which coincided with my retirement. Participating in many VFP events across the country has allowed me the privilege to get to know so many of the amazing women and men in this organization. Building friendships with VFPers in the streets, bus, and barrooms has been a valuable benefit to me. I used these experiences when I became president of the Twin Cities chapter of VFP. In my five years as president, I helped build on an existing strong chapter that was voted "Chapter of the Year" at the Spokane Convention.
In the past year, I have been on the National Board of VFP. This has been a year of powerful change in our organization. Running for the board is a bit of a conundrum for me. I am an "old white guy" and I would like us to empower younger vets, women vets and vets of all different ethnicities by electing them to the board. This is an organic process and I would like to continue to represent the middle part of this country, to listen to our membership, and to lend a hand when asked.
Win or lose I will continue my work to build this organization, winning will help me leverage my position to better serve you.
---
Patrick McCann
Patrick joined the USAF in July, 1970 at age 17. He volunteered for Vietnam, planning to be a career soldier. In December 1971, he attended a 2nd anniversary commemoration of the assassinations of Black Panthers Fred Hampton and Mark Clark by Chicago police. He then refused orders to Da Nang AB, Vietnam, spent March 1972 in the Chanute AFB stockade, and left the Air Force that May with an undesirable discharge.
Patrick joined VFP after the invasion of Iraq in 2003. He's been a board of directors member for a decade, served as national president (2013 and 2014), and local president of the South Florida and DC area chapters. He's been a VVAW member for 4+ decades, and is VP of the south chapter 032 and VFP national recording secretary. He spent 9 years in the International Association of Machinists and Aerospace Workers, 32 years in the National Education Association and American Federation of Teachers, and is a lifetime NEA member. He has…
Hosted 2 Vets For Vets meeting (Miami and DC, 2006):

Marched in the Mobile to New Orleans Veterans and Katrina survivors march (2006):

Attended 13 national conventions, hosted the 2009 and 2012 conventions;

Organized a tour of 18 people to Haiti following the 2012 convention;

Presided over the 2013 and 2014 conventions;

Presented at convention workshops on chapter-building, Syria, and Afghanistan;

Developed, with other leading members, our 'Peace at Home, Peace Abroad' lens;

Brought forward veterans of color, female veterans, and post-9/11 veterans;

Appointed 2 women of color to fill open positions on the VFP Board of Directors;

Hosted tours for IVAW leaders Michael Hoffman and Jimmy Massey;

Been arrested at the White House and US Capitol;
 Patrick Is a VFP lifetime member (twice), and a recurring (credit card) donor for years
---
Rory Fanning 
Rory walked across the United States for the Pat Tillman Foundation in 2008-2009, following two deployments to Afghanistan with the 2nd Army Ranger Battalion. He is a war resister, military counter recruiter, and writer living in Chicago, Illinois. His writing has appeared in the Guardian, the Nation, Mother Jones, Salon, Truthout, TruthDig, TomDispatch, Jacobin, Socialist Worker and others. He speaks at high schools and universities about his walk across the US and his experience in the military. Follow him on Twitter @RTFanning
---
Ben Schrader
I served from 2001-2005 as a 19D Cavalry Scout in the US Army. I did two deployments Kosovo ('02-'03) and Iraq ('04-'05). When I got out of the military I was angry and needed to understand my experience, so I did two things, I joined Iraq Veterans Against the War and I went back to school. I studied political science to understand the process of why we go to war and sociology to understand the human impacts of war. I became more involved in a number of different social justice issues and activism and started to realize some of the mass inequities across our country, which pushed me to get a Master's degree in Ethnic Studies, as many of these inequities were not just class based but also tied to race, ethnicity, gender, and sexuality. I then went on to the University of Hawaii to get a PhD in political science tying all of this together as I looked at veterans who were doing social justice activist work.
It is with all of this history and knowledge in mind that I come into VFP as I saw much of the conversation that happened at our recent convention. I recognize many of the shortcomings we hold as an organization and hope we can work to overcome many of these issues as we work to address some of the tendencies that are holding us back from truly being an organization that promotes peace. I do not believe we can claim to be "peace makers" unless we work to address our history—as a society and in some cases as an organization—of colonization, patriarchy, racism, homophobia, and transphobia. We must transform ourselves before we can truly transform the world. I am willing to talk with anyone about these issues and work to find transformative solutions that will help us grow as an organization.
---
Joshua Shurley
I am a post-Cold War veteran with eight years as an army infantryman, and the founder and president of Chapter 180 in Fresno, California.  I am also a proud father of three, an adjunct professor of political science (and loyal union member of SCFT 1533), and an active organizer and advocate for peace and social justice issues. Since 2016 I have served as an executive board member with the Fresno Center For Nonviolence, and the Central California Criminal Justice Committee. My local efforts include putting VFP on the map as a stakeholder in Fresno's activist community, working with and through several sister groups on anti war campaigns, environmental justice, LGBTQ advocacy, and radical criminal justice reform.
After leaving the army, I studied anthropology at Cal State, Fresno, and later earned a PhD in international relations while living in the United Kingdom. My dissertation examined the effects of US special operations interventions on local civilians, based on a year of fieldwork in East and Central Africa. I am an active researcher in international relations and critical media studies (exposing propaganda) and I mentor students toward a critical framework of speaking truth to power.
I believe effective leadership begins with listening. My goals include expanding our global membership, studying the successful efforts of VFP chapters and scaling those, working to integrate the diversity that VFP is looking to achieve, and contributing to the crafting of our message and outreach with an eye for the long term sustainment of VFP. My strengths include bridge-building and fostering collaborative relationships. In recent years, this organization has done so much for me in terms of my identity and sense of purpose. If elected to the board, I would be honored to give back, and put my experience to work giving back to Veterans For Peace.
---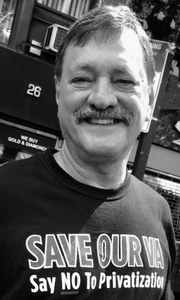 Skip Delano
MILITARY EXPERIENCE: I grew up on a farm in Virginia, joined the Army and was sent to Vietnam in 1968 with a chemical unit attached to the 101st Airborne Division.  On my return, I joined the GI antiwar movement and published an underground GI newspaper at Fort McClellan, AL, and later joined VVAW.
WORK EXPERIENCE: In the 1970s, I was a rank-and-file activist at the NYC Post Office and in the West Virginia coalfields.  In the 1980s, I earned a BA from the University of Maryland and an MA at Columbia University before becoming a teacher in the NYC public schools until I retired in 2017. During these years I gained extensive interpersonal skills working with hundreds of individuals and myriad organizational skills.  Currently, I serve on the 11-member elected Board of Directors of our self-governing housing cooperative of 1,000 apartments in six-21-story buildings in West Harlem which administers a $19 million budget.
VFP SOVA EXPERIENCE: When I traveled to Vietnam with the VFP Tour in 2018 my identity as a veteran was reawakened, and on my I return I volunteered to lead the Chapter 34 Save Our VA (SOVA) Action Team in its fight to STOP privatization of VA healthcare.  We've distributed over 10,000 flyers to veterans at the Manhattan VA, sponsored a SOVA Town Hall in November and mounted a protest against the MISSION Act on June 5th. I also helped organize the SOVA Working Group on a national level, coordinating conference calls, distributing SOVA T-shirts and helping organize SOVA Workshops at the past two VFP Conventions.
FUTURE AS A BOARD MEMBER: If you elect me to the VFP Board of Directors, I will organize more support for the SOVA Campaign nationally, because it not only fulfills VFP's goal of seeking justice for veterans but also offers us an opportunity to build our organization.  Today VFP is the only national veterans' organization fighting to STOP privatization of VA healthcare. Our organization can play a leading role in turning back privatization by winning over the millions of veterans – young and old -- who use VA healthcare. Plus we can recruit many of these veterans into VFP where they can join us in fighting to bring the troops home, educating the public to the full cost of war, and keeping VA healthcare true to its mission of serving America's veterans. 
---
Jan A. Ruhman
Born 1947. Volunteered for and served in the United States Marine Corps from 22 October 1965 through 19 February 1970. Inactive Reserve through 19 October 1972.
Volunteered for and served 19 Months on the ground in the Republic of Vietnam with the 1st Amtrak Bn, 3rd. Marine Division in I Corp approx... 8 miles So. of the DMZ from September 1966 thru May 1968
Activist Member of Vietnam Veterans Against the War 1970 thru 1976 and through the present. Now associated with VVAW/OSS
Instrumental in Reversing the Long Beach Veterans Day Parade decision in November 2007 to denying IVAW, MFSO & VFP the right to March in the Veterans Day Parade that year. Found and marched in San Diego that year with San Diego VFP. We successfully reversed that City decision in 2008 and marched with IVAW, MFSO & VFP in the 2008 Long Beach Veterans Day Parade.
Member Veterans For Peace, San Diego Chapter 91 in January 2008 to Present. Presented the 1st Deported Veterans Workshop at the 2009 VFP Convention in Maryland
Lead on Arlington West for 3 years from 2008 thru 2011
Started the Deported Veterans Movement in 2008 actively working on issue to Present.
Founded VFP San Diego Compassion Campaign in 2010. To date the chapter has raised over $80,000.00 and distributed over 3,500 sleeping bags to homeless veterans and others living on the streets of San Diego
Co-founded 2 International Chapters of Veterans For Peace in Mexico. Tijuana Chapter 176 (now defunct) and Chapter 182 Baja, Mexico comprised of U.S. Deported Veterans and supporters.
Co-Founded and co-funded in April 2017 thru January 2018 the opening of the 1st Deported Veterans Office and Resource Center on the U.S. Mexico Border in Tijuana at the site of Deportation into Baja California for U. S. Veterans and others. Provided a voice and operational center for the newly formed Unified U. S. Deported Veterans and the VFP Sgt. Barrios Memorial Chapter 182 to project their outreach and organizing into the local community and across the border into the U. S. Congressional Offices, Church Groups, Universities, The League of Women Voters in San Diego and the ACLU in Southern California to further their quest for legislation honoring their service and a path to return home to their families that allowed a meeting space for their members to meet and work with groups that have rallied to their cause since opening.
---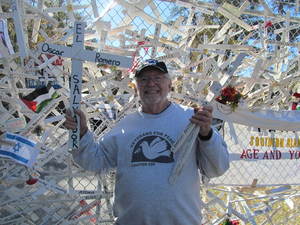 John Spitzberg
My name is John Spitzberg and I live in Willow, Alaska with my five dogs. I served in the United States Army and then the Air Force from 1958-1972 and am a Viet Nam Era veteran.
Joining VFP was one of the best moves I ever made because I am surrounded by people who believe that war serves no useful purpose and people die needlessly. I served as the president of Chapter 099 in Asheville, NC and host Chair of the 2014 convention. For five years I put on the Poetry Soiree at the conventions and published a booklet of poems by poets who sent me their art form.
I joined the Peace Action Team and participated in VFP actions in Washington, New York, Chicago, SOA, Nogales and have conducted workshops at conventions in Veteran homelessness and ways to conduct educational programs using the Socratic Method. I am dedicated to helping rural veterans the benefits they deserve and making sure that the VA continues to be a Federal Government agency.
I am running for a Board position because I believe that we must strive for inclusivity and mutual respect for all members and associates of our organization. Each person should be treated with dignity and fairness. It is not enough that the Board of Directors have a Code of Conduct for themselves only, but their goals must be for everyone in VFP. I believe that VFP policies need to be tweaked, and the leadership needs to provide mediation efforts when differences cannot be resolved on a lower level. I am committed to peace and social justice and they begin with ourselves and our treatment of each other.
I ask for your vote. If elected, I will work hard to make VFP an organization that treats all members with parity, equality and fairness.
---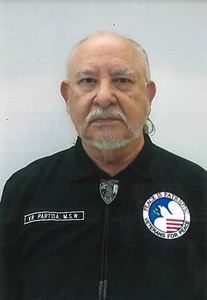 V.R. Partida
About three years ago I attended the Earth Day event at Balboa Park in San Diego. I met Jack Doxey at the VFP booth. He asked me if I was a veteran and did I know about the Veterans For Peace. I answered yes, I have heard about the organization. Jack gave me a business card, an application form and a copy of the Five Goals.
I attended the following chapter meeting, paid my dues and have attended every meeting since. At the last meeting that year, I paid lifetime dues for the chapter and the national and started attending as many activities as possible. I volunteer at each event.
This year, I heard about the board meeting during the convention and decided I would attend. I thought that if a carpool was formed it would be less expensive and more members could attend. Four of us drove and shared accommodations.
I attended my first board meeting and I decided to run for the board. I would like to offer my experience for the betterment of VFP. Please vote for me and give me the opportunity to serve the board of VFP.
---