Please email all inquiries to VFP Board of directors to feedback@veteransforpeace.org
Executive Committee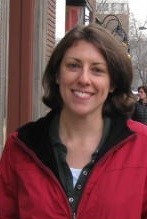 President: Adrienne Kinne
Email Adrienne
Member: VFPUK
Adrienne Kinne has been active in the peace movement since 2007, first with Iraq Veterans Against the War and currently with Veterans For Peace in the US and UK.  She served stateside in the US Army from 1994 to 2004 as an Arabic linguist, having enlisted during her senior year of high school. She has an educational background in psychology and social work, with over ten years of experience in a variety of positions with the Veterans Administration.  Since connecting with the Veteran peace movement, she has worked with organizations at the local, state, and national/international level. She is currently living in London with her husband and two daughters. Through the use of multiple online communications platforms, she has been able to maintain an active role on the board of VFP US and is also serving on the VFPUK policy group.
---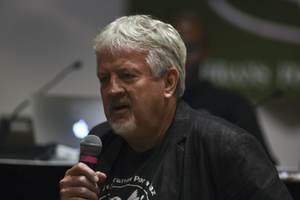 Board Member: Dave Logsdon
Member: 027 - Minneapolis MN
I am a USN combat veteran (Destroyer duty, Gulf of Tonkin Yacht Club). I am from the much coveted "Old White Guy" group in VFP.
My education is limited to two undistinguished years of community college in Chicago. I am not an IT savant by any definition, but I have found my voice late in life.
I grew up in a working class family and drove a produce truck (Teamster retired) for 26 years. I hope to bring a working class perspective to the board. I felt helping organize the VFP National convention was my coming of age moment on the national stage in VFP. It empowered me to take the next step in my involvement by running for the National Board. I am humbled to be on this ballot with friends and colleagues, but I wouldn't have run if I didn't think I could contribute.
I decided to run for the board to make sure that the middle part of the USA is well represented, so that our voice can be heard in the greater vision of VFP. Education, Arts, and Action is what we emphasize at our Twin Cities chapter that I have successfully led for the last four years. It takes imagination to inspire and lead and I have a boatload of ideas in my satchel.
I hope to bring this imagination and energy and to help us grow now and in the future. I always capitalize the FOR in Veterans For Peace!
As we say in Chicago, vote early and vote often.
---
Treasurer:  Empty


---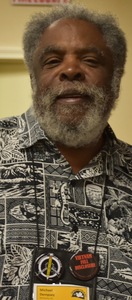 Secretary: Michael Dempsey
Email Mike  
Member: VFP Ch. 46 Monterey CA
I am Michael Dempsey, I became a member of Veterans For Peace 10 years ago upon learning of the organization at a friend's home in Watsonville, CA. where I now live with my wife of 28 years. I became a lifetime member of VFP CH 46 Monterey, CA. two years ago I've served as our chapter's Recording Secretary for the last six years, and also the manager and creator of our social media pages.
I moved to San Francisco in 1971 and in 1972 enrolled in San Francisco City College earning a AA degree in General Education three years later. I worked for a wholesale electrical parts distributor, that led to a position with a Electrical Contractor as a parts manager.
I moved to Santa Cruz County where I lived in an isolated setting with other vets, all of us battling PTSD, but none of us aware of the ailment. I worked a number of part time meaningless jobs until being hired by a electrical contractor to manage his warehouse. That led to me enrolling in the apprenticeship program of The IBEW, upon completion of that program and receiving my journeyman electrician certificate, I volunteered for numerous committees and boards of the IBEW LU234 Castroville, CA.
I served as temporary recording secretary for two years filling a vacancy before being elected to that position, I was on three different contract negotiating committees, I was hired by the local as Lead Organizer, than promoted to Assistant Business Manager, which required computer skills and knowledge I did not have, I enrolled in Watsonville Adult Education class to learn basic computer and office skills. and later enrolling in more advanced adult ed classes, "windows office step program" where learned windows full office suite, and computer repair. I was elected President of LU 234, in 2004, as President, my duties included appointing members to various committees and boards of the local, and monitoring the same. I retired after thirteen years of service as a journeyman electrician and officer of the local union after being diagnosed with with severe untreated prolonged ptsd, with strong recommendation of retirement, from The VA, if financially possible.
---
Board Members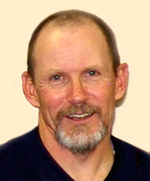 Board Member: Joey King
Email Joey
Member: VFP Chapter 089 - Nashville TN
Joey King was Distinguished Military Graduate from Tennessee Tech University in Cookeville. He graduated from the following Army schools: Airborne, Ranger, Pathfinder, Air Assault, Infantry Officer's Basic Course, Jungle Expert (Panama Canal Zone), and the Infantry Officer's Mortar Platoon Officer's Course. He served as a paratrooper in the 82nd Airborne Division and in Vicenza Italy. He was a platoon leader and company executive officer. In his resignation letter he said
I, LT Joey B King ,resign my commission...I am resigning because of a personal conviction that war is an unacceptable means of resolving differences among nations.
Since leaving the US Army he has been active in:
Buddhist Peace Fellowship
Truth-in-recruiting in Middle Tennessee
Gandhi-King Conference on Peacemaking
Veterans Day Parade Nashville
Stop the Bombs Oak Ridge TN
School of the Americas Watch
Participated as an international election observer in El Salvador March 2009
Contributor to the 2012 book, "Why Peace"
Chair of Veterans for Peace Middle Tennessee/Nashville 2006-present
National Board of Directors Veterans for Peace 2009-2012
---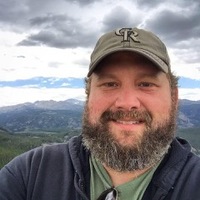 Board Member:  Ben Schrader
Email Ben
Member: Northern Colorado, Chapter 178

I served from 2001-2005 as a 19D Cavalry Scout in the US Army. I did two deployments Kosovo ('02-'03) and Iraq ('04-'05). When I got out of the military I was angry and needed to understand my experience, so I did two things, I joined Iraq Veterans Against the War and I went back to school. I studied political science to understand the process of why we go to war and sociology to understand the human impacts of war. I became more involved in a number of different social justice issues and activism and started to realize some of the mass inequities across our country, which pushed me to get a Master's degree in Ethnic Studies, as many of these inequities were not just class based but also tied to race, ethnicity, gender, and sexuality. I then went on to the University of Hawaii to get a PhD in political science tying all of this together as I looked at veterans who were doing social justice activist work.
It is with all of this history and knowledge in mind that I come into VFP as I saw much of the conversation that happened at our recent convention. I recognize many of the shortcomings we hold as an organization and hope we can work to overcome many of these issues as we work to address some of the tendencies that are holding us back from truly being an organization that promotes peace. I do not believe we can claim to be "peace makers" unless we work to address our history—as a society and in some cases as an organization—of colonization, patriarchy, racism, homophobia, and transphobia. We must transform ourselves before we can truly transform the world. I am willing to talk with anyone about these issues and work to find transformative solutions that will help us grow as an organization.
---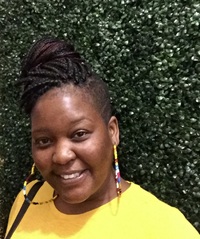 Board Member: Natasha Erskine
Email Natasha
Member: Chicago chapter, President
Natasha Erksine is a US Air Force combat Veteran, retiring in 2016 after 20 years on active duty. Throughout her career, she was assigned to eight assignments including Air Refueling Command in Kansas, Strategic Communications Group in Nebraska, Defense Logistics Agency in Virginia and various combat logistics roles in Turkey, Norway, Germany, Iraq and Kuwait and United Kingdom. Her final assignment was Headquarters, Air Force Special Operations Command in Ft Walton Beach, Florida. From 2011 - 2016, she acted as the Command CV-22 Osprey Weapon System Support Manager; managing joint-use spares contracts and acquisition for 50 multi-mission, vertical-lift CV-22 Osprey aircraft worth $4.4B. She held a wide-latitude of responsibilities, as a command liaison to Department of State, Defense Logistics Agency, Naval Supply Command, Joint Program Office, Air Education and Training Command, two Special Operation Wings, two Special Operations Groups in support of various special ops deployment missions in PACOM, EUCOM and AFRICOM.
Natasha is a native of the South Side of Chicago and currently serves as Vice President of the Chicago Veteran For Peace chapter. She is a proud mother of a high school honors student in Chicago's public schools. Together, they share a love of travel, reading a good book and movies. After retirement, Natasha began the long journey of unpacking two decades of experience. The connection to VFP was a natural transition as moral injury began to set in. With a strong desire to use my skills in the community; she is deeply involved with a myriad of projects ranging from social/racial justice, educational equity and replacing JROTC with career technical education.
From Natasha: "My focus on the VFP board is to support creating space. I am excited to be alive and engaged in the current righteous rebellion for peace, justice and movement for Black liberation. I hope through our weekly Stand Down Webinars; VFP chapters across the nation and globe; seize the moment to do more of the work it takes to create space for more membership: Veterans who are young, traditionally marginalized, maligned and forgotten."
---

Board Member: Patrick McCann
Email Patrick 
Member: 032 - Miami Area, FL
Patrick has been a member of VFP since the invasion of Iraq in 2003, and a member of Vietnam Veterans Against the War for 4+ decades. He has:
served as VFP national president (2013 and 2014);
served on VFP's Board of Directors for 10 years;
been president of the South Florida and DC Metro area chapters;
hosted 2 of the first 3 Vets For Vets national meetings (Miami and DC, 2006):
participated in the Mobile to New Orleans Veterans and Katrina survivors march (2006):
attended 11 national conventions, beginning with San Francisco in 2003;
hosted 2 national conventions (U-MD in 2009, Miami in 2012);
organized a tour of 18 people to Haiti  following the Miami convention;
presided over 2 national conventions as president (Madison, 2013 and Asheville, 2014);
presented at numerous convention workshops on chapter-building, Syria, and Afghanistan;
developed, with other leading members, our 'Peace at Home, Peace Abroad' lens;
brought forward veterans of color, female veterans, and post-9/11 veterans;
appointed 2 women of color to fill open positions on our Board of Directors;
hosted tours for IVAW leaders Michael Hoffman and Jimmy Massey;
been a union member and activist for 3+ decades (NEA and Machinists)
been arrested at the White House and US Capitol for protest actions; and
am a VFP lifetime member (twice), and a recurring (credit card) donor for years.
Patrick retired from teaching high school in June, 2015.
---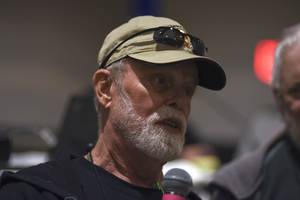 Board Member: Willie Hager
Email Willie
Member: VFP Ch. 174, Jacksonville Florida
My name is Willie Hager. My home Chapter is Veterans For Peace Jacksonville Fl Jacob George Memorial Chapter 174, of which I am a Charter Member. I am a Life Member of VFP and I am running again for the board, having served 2013-2016. I am a USMC Veteran 1959-1969. I served two tours in Vietnam I Corps as a 1371 Combat Engineer 1965-66 & 1968. I have been a member of VFP since 2012 and in that time have chartered my home chapter as well as being a co-founder of the Veterans For Peace Sgt Barrios Memorial Chapter 184 in Tijuana, BC and it's staffed and operating intake and triage office; the Unified U.S Deported Veterans Information & Resource Center, located on the border in Tijuana. I am currently Project Coordinator for the Veterans For Peace National Deported Veterans Issues and Advocacy Project.
In addition to a long history of Veterans' anti-war activism, beginning with Vietnam Veterans Against The War in 1971 where I served as California/Nevada Regional Coordinator 1972-1974. I also share some common extracurricular skill sets and certifications with current board member Maurice Martin, to quote: "I'm also a certified mediator; Restorative Justice Mediator, Alternative to Violence Project Facilitator, and Conference Meeting facilitator." I also still serve as an Coordinating Trustee with the VVAW Legacy Trust.
During my time since joining VFP in 2012; I have organized and Moderated workshops relating to Deported Veterans for six consecutive National Conventions. I have served on several Board committees over the years; Bylaws, Resolutions, Development, Media and Communications, and was appointed by then President Barry Ladendorf to be Coordinator for the Border Immigrations and Issues Ad Hoc Committee, which has subsequently evolved into the VFP National Deported Veterans Issues & Advocacy Project.
I am running for the board again because I have seen the positive changes within VFP of the past six years and I have grown as a person from having been a part of it. I believe that we need to continue to nurture that change. This is the 21st century and things are moving fast and we need to continually be in tune with events rather than playing catch up. I believe the way to do that is for the chapters to step up for local peace and social justice actions and campaigns that are a cost of war, and for the National Board to consider avenues to provide direct communications, support, and resources for them to do so. I believe the real work/revolution begins at home.
If you choose to elect me once again to the Board; I pledge that I will work to help shape a model that will keep us effectively in the game as we build for an uncertain future. For me the ticket is more local peace and social justice issue campaigns and projects, less mass organizing, and increasing our international profile, i.e., Golden Rule Project and Deported Veterans Project, new chapters in new places doing new things.
Unity-Struggle-Victory!
---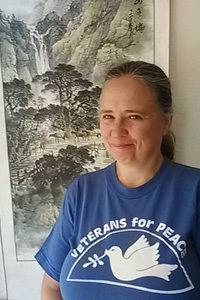 Marti GuyDowning
Email Marti
Member: Chapter 162-East Bay, CA
I am the daughter of an immigrant scholar and of a U.S. soldier. With a degree in Political Science and Spanish, I enlisted in the Army. During the Reagan administrations, I was an Intelligence Analyst practicing desert warfare in a Combat Electronic Warfare Intelligence (CEWI) unit. I call myself a bridge veteran because I served between hot wars. There is no peace time inside the military because it is the war business. Later, on Wall Street, I witnessed the end of the Cold War, the short-lived "Peace Dividend" and the maneuvering to profit from war when I worked for an international economic advisor to investment banks.
I joined VFP in January 2003. I have also been involved with Occupy, Black Lives Matter, Crosses of Lafayette, Monsanto protests (focusing on Agent Orange), Take Back The Night, Sankofa Sunday and Urban Shield protests.
My best peacemaking skills are quiet ones: deep listening, nonviolent communication, inclusion and actual support of others. I just got bystander training that dissolved a conflict! I am grateful for the peace musicians, artists, poets, writers, documentarians, photographers of conscience, signs- banners-and t-shirt makers, and the do-what's-needed crew that help with this work and sustain my spirit.
Honor the dead, Heal the wounded, Stop the wars.
---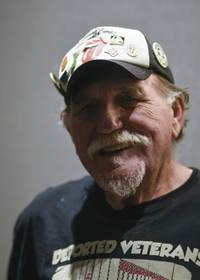 Board Member: George Johnson
Email George
Member: VFP Ch. 182 
My name is George Johnson a US Navy veteran 1962 to 1966. A radarman Vietnam Veteran. I joined VVAW in 1968 and have been active in working for peace and justice for 50 years. I joined VFP during the first Gulf War, I have served in many capacities in VFP, as chapter president, vice president, outreach coordinator, speaker at a number of conferences, conventions, schools, community organizations and media Outlets. 
I serve as a referral to Veterans in accessing veterans services and programs and contact for support services for veterans seeking rightfully earned and deserved benefits.
I designed t-shirts and banners. I designed Veterans For Peace first tie-dyed t-shirts.
I was a member of the musical group "ANNIE AND THE VETS", who donated over $20,000 to VFP and other organizations through musical performances, and CD's.
I served on the Board of Directors of Veterans For Peace in the late 90s and early 2000's. I currently live and work in the deported veterans community in Baja California. I helped co-found and open the first sustained deported veteran office in Tijuana, Mexico. Providing services and programs and referral for benefits through the Veterans Administration health care programs.
I was co-founding member of Chapter 101, also the San Jose California chapter 176 , Tijuana Baja Mexico chapter 182.
I feel my lifelong experience and commitment to peace and Justice will be very useful on the VFP board. I feel that one of the goals should be reaching out  to former members who no longer participate and bring them back to the fold at the same time reaching out  to Veterans of all generations  that work for  peace and Justice.
Understanding our history through long experience can be an asset as we continue to move forward a in ending war, promoting peace, and providing services and support for those who are struggling with the  consequences of War. This experience working collaboratively with our younger generation veterans can be vital in helping us move forward as we look at new visions and opportunities in bringing peace and justice around the world.
---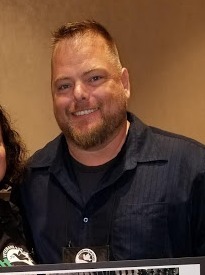 Board Member: Joshua Shurley

Member: Fresno, California

I am a post-Cold War veteran with eight years as an army infantryman, and the founder and president of Chapter 180 in Fresno, California.  I am also a proud father of three, an adjunct professor of political science (and loyal union member of SCFT 1533), and an active organizer and advocate for peace and social justice issues. Since 2016 I have served as an executive board member with the Fresno Center For Nonviolence, and the Central California Criminal Justice Committee. My local efforts include putting VFP on the map as a stakeholder in Fresno's activist community, working with and through several sister groups on anti war campaigns, environmental justice, LGBTQ advocacy, and radical criminal justice reform.
After leaving the army, I studied anthropology at Cal State, Fresno, and later earned a PhD in international relations while living in the United Kingdom. My dissertation examined the effects of US special operations interventions on local civilians, based on a year of fieldwork in East and Central Africa. I am an active researcher in international relations and critical media studies (exposing propaganda) and I mentor students toward a critical framework of speaking truth to power.
I believe effective leadership begins with listening. My goals include expanding our global membership, studying the successful efforts of VFP chapters and scaling those, working to integrate the diversity that VFP is looking to achieve, and contributing to the crafting of our message and outreach with an eye for the long term sustainment of VFP. My strengths include bridge-building and fostering collaborative relationships. In recent years, this organization has done so much for me in terms of my identity and sense of purpose.
---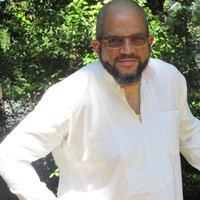 Board Member: Miles Megaciph
Email Miles
Member: At Large member
Miles Megaciph is a USMC veteran 1992-1996 3rd Battalion 8th Marine Regiment, and a VFP member at large since 2014. Megaciph is an American rap artist, and poet whose words and music are created to uplift voices of equity and human rights. Megaciph is an acronym for Mental Energies Gather And Circulate In Positive Harmony and this is the life mantra that Miles truly strives to live by every single day. Miles holds a B.A. in English Composition and Rhetoric from Georgia State University 2006, and a M.S. in Nonprofit Management from The New School University 2010. As an organizer Miles works primarily through and with the arts to affect change and amplify messages of peace and unity. Miles works with We Are Not Your Soldiers as a recruitment awareness advocate; we share truths about the military that the recruiters do not tell. Miles is currently working with other VFP members on the #standdownlive webinar series and helping to cultivate a culture within VFP that is welcoming and empowering to young veterans from diverse communities of women, BIPOC and LGBTQ.
---