This Memorial Day we remember all who have died in war and understand that no one wins in war. Many of us have been personally touched by war. But we must also extend that mourning. We must remember the civilian victims, and their families, who are all equally human beings. Honoring and remembering some deaths while ignoring others not only perpetuates war, but also ignores the moral injuries of war, which some now recognize as a significant cause of veteran suicide.
There are people who profit from war, mainly those who invest in the defense industry or the oil sector. But the veterans and civilians who survive war suffer for the rest of their lives. And the entire society is robbed of billions of tax dollars which could be spent on jobs, education, healthcare, infrastructure and sustainable energy.
The events of the last few months have revealed what you have always known, the world is interconnected in a deep way and what affects one of us can affect all of us. We know that you have known this because you joined Veterans For Peace to speak out against militarism and the disastrous effects that our country has on many countries around the world. 
Veterans For Peace has commemorated Memorial Day every year to remember the true costs of war. We know that this year physical gatherings are not possible even as the current virus has revealed the massive need to put people over the pentagon and the need to fund healthcare and human needs over the massive expenses of the military. 
#HealthcareNotWarfare
---
This year on Memorial Day we are asking folks to honor all victims of war by:
Taking Action at Home: 
Fly the VFP Flag from your porch
Print out our "Veterans Call for Global Ceasefire" and "Healthcare NOT Warfare" posters and put them in your window

If you can, take a photo of yourself with the posters (or the posters in your window) and email it to press@veteransforpeace.org so that we can share it on our social media accounts 
Taking Action Online:
VFP Chapters Taking Action Online on Memorial Day 2020:
---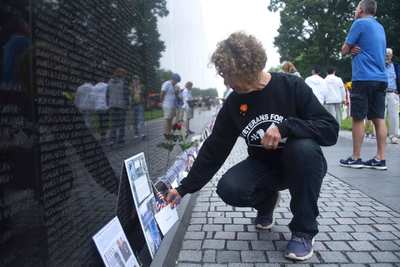 Chapter 34 - New York, NY
Join NYC VFP for a Memorial Day Commemoration May 25: This Memorial Day, join New York City Veterans For Peace and members of VFP from all over in honoring the memory of those killed in war.
Beginning at 2 pm EDT on Monday, May 25, we will come together online with song, poetry, and readings. We will share photos from previous VFP Memorial Day events and read from our Letters to The Wall, written to those whose names are inscribed on the Vietnam Veterans Memorial Wall in Washington, D.C. VFP Poet Laureate Jan Berry will read his work, and Raging Grannies will sing (and you can sing along). Although the COVID-19 pandemic is preventing us from being together in person, it opens up new possibilities for creating community online and spreading the message that every death from war is an unnecessary death.
If you want to share your Letter to The Wall or a memory of someone killed in war during the program, email nycvfp@gmail.com.
---
Chapter 27 - Minneapolis, MN
The day before Memorial Day Chapter 27 will have "The Veterans For Peace Hour Special Memorial Day commemoration, an hour of mostly music on KFAI FM 90.3 in Minneapolis. The show will air at 10 AM (CST) on the 24th and will be archived for two weeks after. On Memorial Day in lieu of their usual gathering at the State Capital Vietnam Memorial they plan to have a zoom meeting with poetry and reflections. For the Zoom call-in information, please email Dave Logsdon <dlvfp27@gmail.com>.
---
Chapter 57 - Will Miller Green Mountain Vermont
Chapter 57 has bought the airing of the following 15 second piece on a local County Music station to air multiple time over the four days of Memorial Day weekend:
This Memorial Day we honor, in the best way we can, those who have fallen in battle. 
Members of Veterans for Peace are dedicated to promoting ways to avoid the true and tragic costs of war.
Vermont Veterans For Peace – fostering peace for the good of all.
Tune to WPLB Burlington (AM1070/FM103.7) - listen online link, www.1037wplb.com/player/ (this link only gets one to the station not the recording). 

Read the message that Chapter President Richard Czaplinski sent to the local newspaper and Vermont Digger, an online news organization.
---
Chapter 63 - Albuquerque NM
Sally-Alice Thompson of Chapter 63 has organized a Zoom commemoration of Memorial Day.
From the chapter: Memorial Day (Monday, May 25) is a time to contemplate, and to remember the many who have given their lives to war. Please join Veterans For Peace in a few minutes of observance of this solemn day. If you have some words to say, a poem to read, or a song to sing that is appropriate to this observance, please notify Sally-Alice Thompson sally-aliceanddon@juno.com to be put on the program and let me know you are attending. You will be notified of the time of the observance again on May 25. 
---
Chapter 157 - North Carolina Triangle
Ethical Humanist Society of the Triangle on behalf of the Orange County Peace Coalition and NC Veterans for Peace (Eisenhower Chapter) is planning a Zoom meeting for the annual Memorial Day Commemoration: Victims of War.
Program
Welcome - Jan Broughton, Grannies
First song Introduction of Speaker Speaker
Rev. Mark Davidson For Veterans For Peace
Douglas Ryder Poetry - Vicki Ryder
Grannies 2nd song
Taps - Chris Meglin
---
Read More by VFP Members
You can also check out our recap of VFP Chapters taking action in 2019!