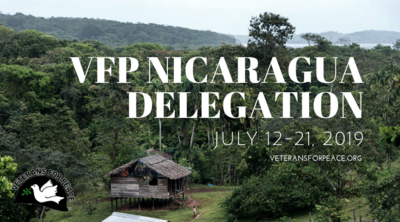 VFP Delegation to Nicaragua, July 12-21
40th Anniversary of Sandinista Revolution
VFP is excited to announce a special delegation to Nicaragua, July 12-21. The delegation will coincide with the 40th anniversary (July 19) of the revolution that freed Nicaraguans from decades of the U.S.-backed Somoza dictatorship.
Our delegation will participate in the founding meeting of the Nicaraguan chapter of Veterans For Peace, made up of former Sandinista soldiers and former CIA-backed counter-revolutionary soldiers ("Contras"). We will spend time with renowned Vietnam veteran and peace activist Brian Willson, who lives in Nicaragua and is helping to organize the VFP chapter there.
The VFP delegation will coincide with two other U.S. solidarity delegations to Nicaragua, and will share several dynamic events with the other delegations. We will meet with grassroots community groups and agricultural collectives. We will spend a few days in the capital Managua. We will visit several regions, including Nicaragua's Atlantic Coast, where we will meet with Afro-Caribbean and Indigenous communities. We will meet with government officials and learn about ongoing covert U.S. intervention in Nicaragua.
The in-country cost for the 10-day visit will be $700. This will cover housing, in-country transportation and most meals, as well as an in-country coordinator/translator. Roundtrip airfare from U.S. cities ranges from $400 to $500 dollars. So the total cost for the trip, including roundtrip airfare, will be between $1100 and $1200. This is an incredible deal.
Limited VFP travel assistance funds may be available to interested VFP members who cannot otherwise afford to join this delegation. We strongly encourage participants to raise all (or most) of their own costs, however. Members without savings are encouraged to seek support from your chapter, family and friends. House parties and crowd funding can be very effective fundraising tools, and also prepare your community to organize report-backs upon your return.
The delegation size will be limited to about 12 people. We will strive to have a well-balanced group – diverse in terms of age, ethnicity and gender. Travel assistance funds will be prioritized for younger veterans, women and veterans of color.
VFP members and friends who would like to support this delegation are invited to make donations to a Nicaragua delegation travel assistance fund. You can mail checks to Veterans For Peace or donate online, in both cases indicating "Nicaragua Delegation."
Please fill out this application as soon as possible: Application
You can also print out this PDF and mail it to the National Office at 1404 N. Broadway Blvd, St. Louis MO 63102
For more information, or to apply to participate in the July 12-21 delegation, please contact board president Gerry Condon (gerrycondon@veteransforpeace.org), who is the U.S. coordinator for the delegation. You may also call Gerry at 206-499-1220.