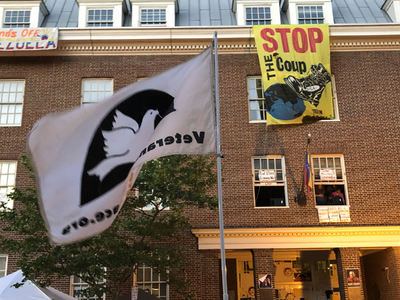 VFP flag across the street from the Venezuelan Embassy in Washington, DC. 
Over the last several days, VFP members from around the U.S. have joined the vigil outside the Embassy of Venezuela in support of VFP member Ken Ashe and other peace activists who are under siege inside the Embassy.  The activists are in the Embassy at the invitation of the democratically elected government of Venezuela.
Late last night, Tuesday, five VFP members participated in a successful delivery of food, medicines, and clothing to our friends inside the Embassy. Despite intimidation and physical blocking from right-wingers, we remained nonviolent, and achieved our objective. 
VFP members here this week include Bill Perry, Mike Hearington, Bruce Berry, Al Glatkowski, Russell Johnson, San Adams.  VFP president Gerry Condon and Board member Maurice Martin are also present. And Ken Ashe, of course, who is among those inside the Venezuelan Embassy.
More VFP members are on the way. Some have requested and are receiving travel assistance funds from Veterans For Peace. San Diego VFP has contributed $500 for travel assistance. Chapter 27 in Minneapolis has contributed funds for food for the Embassy Protection Collective (those inside the Embassy). 
To donate to VFP efforts, click here!
Most VFP members can stay in DC for a few days to a week. So in order to maintain a VFP presence, we will need to keep a good rotation going.
"This is a profound act of resistance, and very symbolic too," said VFP president Gerry Condon. "The Trump administration's attempt to take over the Venezuelan Embassy and give it to right wing Venezuelans is a key part of their strategy to overthrow the democratically-elected government of Venezuela."