Two US Veterans For Peace arrested at Shannon airport on St Patrick's Day.
Due in Ennis Court 10 am Monday, March 18
to face charges of Trespass and Criminal Damage
A group of seven U.S. Veterans for Peace took part in protest against U.S. military flights through Shannon Airport on Sunday, March 17.
WHY? Up to one million children have died due to U.S.-led wars in the Middle East since 1991.
Prior to the protest outside the airport at 2 pm, an OMNI Air International plane, tail number N351AX, arrived at Shannon Airport about 8.30 am from Eielson U.S. Air Force Base in Faribanks Alaska, most likely on its way to the Middle East with up to 300 armed U.S. troops.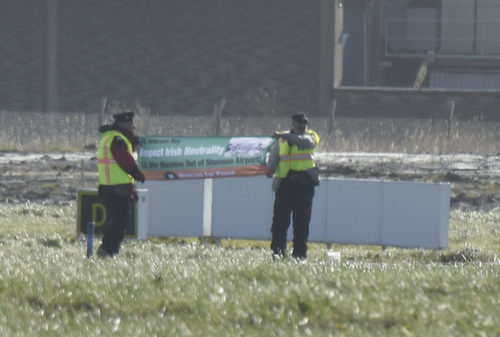 At about 10 am U.S. Veterans For Peace members Ken Mayers and Tarak Kauff entered Shannon air field for the purpose of inspecting and investigating this aircraft, which they believed to be carrying up to 300 armed U.S. troops through Shannon airport. They were carrying a large banner that said:
U.S. Veterans say
Respect Irish Neutrality
U.S. War Machine out of Shannon Airport
Veterans For Peace
The two peace activists walked across the air field with the intent of inspecting the plane for weapons or munitions before being apprehended by airport security and Gardai.  There were detained and interviewed at Shannon Garda station until about 6 pm and then their period of detention was extended for a further six hours. At about 9.30 pm they were allowed to call Ellen Davidson and they informed her that their period of detention was being extended overnight and that they were being brought to Ennis Court on Monday, March 18, at 10 am to face charges of trespass and criminal damage.
Tarak Kauff and Ken Mayers were part of a delegation of U.S. Veterans For Peace who have been speaking at meetings of peace activists in Ireland over the past few days.
Major Ken Mayers served 12 years in the USMC. He is a former National Board member of Veterans For Peace and a member of the veterans peace team delegations to Palestine, Okinawa, Jeju Island, South Korea and Standing Rock.
Tarak Kauff was a paratrooper in the U.S. Army during the early sixties. He was a member of the VFP National Board of Directors for six years. He has organized veterans delegations to Palestine, Okinawa, South Korea and Standing Rock. He is currently the managing editor of Peace In Our Times, VFP's quarterly 24-page newspaper.