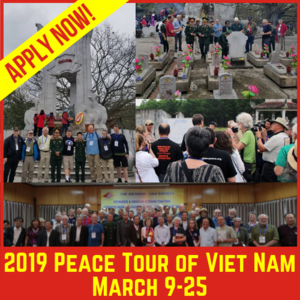 By popular demand, VFP Chapter 160 in Viet Nam will host another tour for VFP members, spouses, friends, who have requested one more chance to visit the country that shaped our lives in so many ways.
COST: $2,900 for 17 days in-country travel to include hotels, meals, transportation + roundtrip airfare from West Coast + $1,000 donation.
MISSION: Each tour participant must bring a donation of at least $1,000 to be pooled at the end of the trip and divided among projects we visit – for bomb clearance and risk education, to help victims of chemical warfare, to support hospitals, orphanages, schools, or other family and community needs in Viet Nam.
The $1,000 donation is mandatory. We encourage additional donations from individuals not joining the tour, their families, neighbors, civic organizations.
IMPACT: In past years nearly $250,000 has been donated by tour participants to projects supported by VFP 160 all over Viet Nam.

DAY 01 | SAT 09 MAR Flight from San Francisco to Taipei arrives in Ha Noi Saturday morning. Introductory briefing, sightseeing, overnight at hotel in the historic Old Quarter.
DAY 02 | SUN 10 MAR Tour Ho Chi Minh Mausoleum, Uncle Ho's modest house on stilts. Visit museums, relax around Hoan Kiem Lake.
DAY 03 | MON 11  MAR Visit Friendship Village for Agent Orange victims. Roundtable with VN-USA Society, Veterans Association, Agent Orange Association, meet with U.S. Embassy staff.
DAY 04 | TUE 12  MAR Fly to Hue, drive to Quang Tri Province and DMZ, see remains of war damage at bombed church. Stop at center for blind victims of UXO accidents.
DAY 05 | WED 13  MAR Visit Quang Tri Mine Action Visitor Center. See Project RENEW EOD teams in the field, witness live UXO detonation. Visit Vinh Moc Tunnels, Agent Orange victim families.
DAY 06 | THU 14  MAR Drive toward Laos, stop at National Cemetery, Rockpile, Khe Sanh U.S. Marine base. Travel to A Luoi and A Shau Valley along scenic river route.
DAY 07 | FRI 15  MAR Visit homes of Pac Co and Van Kieu ethnic minority families, also victims of Agent Orange. See how VFP donations have provided cows and pigs for income.
DAY 08 | SAT 16  MAR In Hue city meet orphaned children at Chua Duc Son Pagoda. Free time or optional guided tour of the Citadel and Emperors' tombs.
DAY 09 | SUN 17 MAR Morning free time, after lunch drive south over spectacular Hai Van Pass to white sand beaches of Da Nang.
DAY 10 | MON 18 MAR Visit Da Nang center for children affected by Agent Orange who are cared for with support from VFP contributions. Meet with Da Nang VUFO.
DAY 11 | TUE 19 MAR Relax and shop in scenic and historic Hoi An. Optional side trip to nearby My Son Cham ruins, a UNESCO World Heritage site.
DAY 12 | WED 20 MAR Optional two-hour drive to My Lai, visit memorial and museum at site of the 1968 My Lai Massacre. Or more beach time, shopping, relaxing.
DAY 13 | THU 21 MAR From Da Nang Airport fly to Ho Chi Minh City. Meeting with VAVN, optional media interviews.
DAY 14 | FRI 22 MAR Visit Tu Du Hospital center for AO children abandoned at birth. Guided tours of War Remnants Museum, Reunification Palace, historic sites.
DAY 15 | SAT 23 MAR Sightseeing, shopping along fashionable Dong Khoi Street. Optional excursion to Cao Dai Temple, Cu Chi Tunnels.
DAY 16 | SUN 24 MAR Free time. Relax, sightseeing, shopping. Closing dinner hosted by Ch 160, Saigon River cruise.
DAY 17 | MON 25 MAR Morning meeting to decide allocation of donation money among projects visited. Afternoon departure back to the U.S.
---
 FOR INFORMATION AND TO RESERVE YOUR SEAT, CONTACT:
U.S. Tour Coordinator

 

Viet Nam Tour Coordinator

 

Paul Cox
Chuck Searcy
Board Member, VFP Chapter 160     
890 Camelia St.
Berkeley, CA 94710
Cell +1 510 418 3436
Email paulcox890@comcast.net
President, VFP Chapter 160
71 Tran Quoc Toan
Ha Noi, Vietnam
Cell +8 490 342 0769
Email chuckusvn@gmail.com
---
DATES AND COSTS
TOUR DATES: Group Flight will depart from San Francisco late night on Thursday, March 7th, arriving in Ha Noi on Saturday morning, March 9th. Return flight from Ho Chi Minh City to San Francisco will depart mid-afternoon on Monday, March 25th.
TOUR COST: Participants pay for: (1) airfare to and from Viet Nam – group flight from San Francisco available as a package option, approximately $900 to $1,000; (2) in-country domestic travel and accommodations – 17 nights, 18 days, includes single room, $2,900; (3) $1,000 required minimum donation; (4) fee for 30-day one-entry tourist visa, $80.
Note: VFP tour organizers and hosts are volunteers. No one is paid. The Hanoi travel company which handles in-country arrangements, Viet Dreamland Travel Co., Ltd., gives us discount prices to allow larger donations to go to VFP 160's beneficiaries.
PAYMENTS
PAYMENT DEPOSIT: To reserve your place on the tour, a $300 deposit must be submitted by close-of-business on Wednesday, January 30th, made out to VFP Chapter 69. Send to:
Veterans For Peace
5519 Plumas Avenue
Richmond, CA 94804
H 510 524 7820 C 510 367 9376
E dennyriley7@gmail.com
DEPOSIT DEADLINE: EXTENDED TO WEDNESDAY, JANUARY 30TH