Increasing Global Impact
For over 25 years, Veterans For Peace has been the only veterans organization in the US seeking to "abolish" war and create a culture of peace. As the global reach of the US continues to expand, VFP must counter this expansion in a shrinking world by increasing the global impact of the peace movement. With the 2012 Bylaw change, VFP welcomes international veterans to join the ranks.
United Nations Status
Through an affiliation with the United Nations, VFP gains aquaintance with other UN-affiliated non-Governmental Organizations and access to United Nations events in New York City. The UN Department of Public Information is a dynamic and growing community of more than 1,300 NGO's.
For more information about UN workings, please contact Head VFP representative, Ellen Barfield, at ellene4pj@yahoo.com.
F&Q: VFP Affiliation with the United Nations
Timeline: VFP Historical Involvement with the United Nations
International Connections
As of a 2012 Bylaw change, Veterans For Peace has opened its membership to international veterans, allowing for international chapters to be formed.
In the United Kingdom a group of veterans has adopted the VFP mission and formed a chapter and is now attracting global attention demonstrating in support of Bradley Manning and Julian Assange. The chapter has pledged to employ non-violent means to support our Statement of Purpose.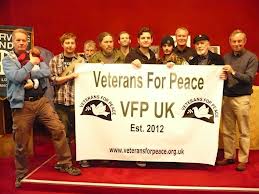 For more information about the UK group, please visit their website.