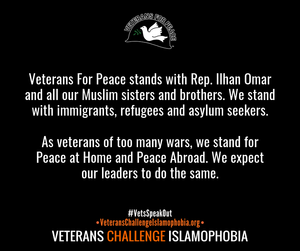 April 19, 2019
Veterans For Peace condemns President Trump for his racist attacks on Rep. Ilhan Omar, one of the first two Muslim women to be elected to the House of Representatives. 
Donald Trump is consciously attacking Muslims and women of color to whip up reactionary racism, misogyny, and violence.  His actions are reckless and evil.
As veterans, we expect a Commander-in-Chief who will unite the country and tend to the needs of all the people, especially those most in need – the unemployed, the homeless, and immigrants. Instead, we have a fascist-leaning president who thinks it is fun – and good politics – to attack the most vulnerable – to divide and conquer – all to benefit himself and his billionaire buddies.
When we joined the military, we raised our right hands and pledged to defend the Constitution from all enemies, foreign and domestic.  We remain committed to fighting for real democracy and human rights for all. 
Veterans For Peace stands with Rep. Ilhan Omar and all our Muslim sisters and brothers.  We stand with immigrants, refugees and asylum seekers.  As veterans of too many wars, we stand for Peace at Home and Peace Abroad. We expect our leaders to do the same.