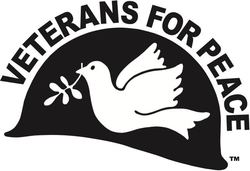 March 8, 2019
Veterans For Peace applauds Rep. Ilhan Omar for her courageous truth-telling in the face of tremendous reaction. Her criticism of Israel's inordinate influence in U.S. politics is welcome, and can no longer be silenced by fact-free accusations of "antisemitism."
The First Amendment of the U.S. Constitution guarantees freedom to criticize our government without censorship or retribution. Representative Ilhan Omar's statements criticizing Israeli influence in Congress are protected speech like that of every other citizen. Moreover, her criticism of the unconditional support for Israel despite their relentless and continuing violations of international law and the human rights of Palestinians is badly needed and long overdue.
The international community has issued over one hundred United Nations General Assembly resolutions and 46 UN Security Council resolutions to censure or sanction Israel for its terrible crimes and abuses against Palestinians. All people of conscience should criticize any country that steals lands and resources, targets nonviolent protesters, utilizes mass incarceration, denies refugees their right of return, and occupies with military force. 
We also commend Representative Ilhan Omar for her work for peace inside the U.S. House of Representatives.  We note that she has pledged to bring an end to ongoing U.S. military conflicts.  She uses her experiences as a refugee to educate thousands of U.S. citizens about the devastating realities of decisions made in Washington DC.  Her voice is a refreshing addition to the national dialogue on issues of war and peace. 
The attempts to silence, intimidate or censure U.S. Representative Omar must stop.  Opposition to Israeli oppression of the Palestinian people and active collusion by the U.S. government is the responsibility of all peace-loving people.  We are thankful to Rep. Omar for setting a good example.  We will continue to defend her from the rightwing attacks and threats of violence that have been unleashed against her.