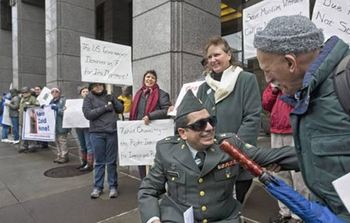 November 6, 2017
Veterans For Peace understands the very human need to feel safe and secure, in our homes and in our everyday lives.
We live in a world with perpetual fears, of unpredictable violence from twisted ideological extremists, whether it be the violence of a man from Uzbekistan behind the wheel of a truck in Manhattan, a mentally disturbed man in Las Vegas shooting into a concert crowd with automatic weapons, a homegrown neo-Nazi in Charlottesville driving his car into anti-racist protesters, or a white supremacist ex-convict with a knife riding mass transit train in Portland, Oregon. Knowing that this violence exists means we need reasonable heads to put those fears into perspective and collective work to replace our culture of violence with a culture of peace.
As veterans we know the dangers that lurk in the dark corners of the world; our nightmares are full of them. However, we also know there is a greater danger right here in the United States.
That danger is injustice.
One such injustice is the persecution of disabled U.S. Army veteran Muhammad Zahid Chaudhry.
We understand that following his honorable discharge from the military, Zahid attempted to become a U.S. citizen, unsuccessfully. Now he faces deportation on frivolous grounds.
When our government in earnest and out of real concern for the safety of its citizenry becomes overzealous and grasps at straws to deport a military veteran, one who has been a pillar of his community, the question of state racism is unavoidable. Is the persecution of Zahid Chaudhry simply because of his name, and thus a manifestation of Islamophobia? His record of service to his country and community should speak for itself.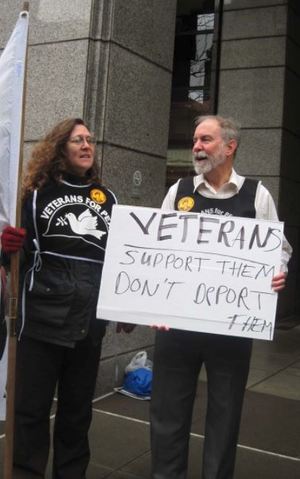 Since his separation from the military, Zahid has worked tirelessly to make the U.S. a better place to pursue the American Dream. He has been married to a U.S. citizen for 16 years and has an outstanding record of community service, having assisted the homeless and volunteered with a fire department, the Red Cross and Habitat for Humanity. He and his wife have been involved in senior care, community garden projects and charity work. In addition, Zahid's leadership as president of Veterans For Peace Rachel Corrie Chapter 109 in Olympia, Washington has demonstrated his commitment to educating on and carrying out nonviolent approaches to resolve conflict, build peace, and end injustice.
Zahid is facing deportation to Pakistan, a country that is no longer his home. The United States is his home – the place where his family is and where he and his wife have worked to nurture positive community connections. A reasonable mind would know that to deport Zahid to Pakistan is to place both he and his wife in danger, as they would be a target of those very extremist groups whose violence we dread so much. Zahid would be considered a traitor by extremists in Pakistan for serving in our military and would be living in fear of reprisal.
Let not fear rule the decisions of our courts. All testimonies from friends, community leaders and veterans praise Zahid as a man of peace, a loving and a compassionate man, an extraordinary person, a man that is a positive contributor to his family, friends and community.
Veterans For Peace asks that anyone in a position to judge Zahid's character and his commitment to his country reflect deeply on his remarkable and multifaceted service to our nation over many years before deciding his fate.
It is inconceivable that a man who would make such a sacrifice for his country would be treated in this way. Our veterans, regardless of their birthplace, do not deserve to be ripped from their homes and deported, particularly when they have dedicated themselves to building community and a just and peaceful future. Our veterans and community leaders deserve our gratitude, not irrational judgments based in fear.
Given our current political environment, it may be more important than ever that we lift up our image to the world, demonstrate justice still prevails in the U.S., and dismiss this deportation hearing in favor of Zahid and allow him his right to become a citizen of the country he has dedicated his life to serving.
For more information, visit the following websites: