Plans For 2016:
At the close of 2015 it seems the world has once again forgotten the folly of war and is on the verge of another round of global madness. That is why we need you to act NOW! Veterans For Peace asks you to support our work in 2016 by giving TODAY.
We seek to help people see that Peace is Possible. We will
remind the world about the Kellogg Briand Pact,
sail the Golden Rule to educate the public about the dangers of nuclear war,
work to resist further escalation of U.S. war making in Syria, Iraq, Afghanistan and around the world,
advocate for global diplomacy,
push for more U.S. humanitarian support for the Syrian refugee crisis,
continue to make connections with veterans across the globe to build peace between former warriors and help people see a vision of international peace both at home and abroad.
Accomplishments in 2015:
International chapters added in Ireland and Mexico, and a U.S. chapter in Janesville, WI and
335 new members nationwide.  
Yoko Ono, Pete McCloskey and Masahide Ota joined our Advisory Board
November – Armistice Day celebrations around the country reclaim November 11 for peace. VFP chapters sponsored at least 70 events, generating news articles around the country.  VFP Board President, Barry Ladendorf joins UK chapter in Remembrance Day event in London.
Major presence at School of the Americas Watch at Fort Benning, GA, protesting U.S. training of militaries that have a history of impunity and Human Rights violations throughout the hemisphere.
VFP delegation to Jeju, South Korea and Okinawa, Japan in solidarity with ongoing popular resistance to new U.S. military bases in their communities.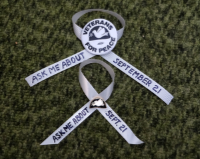 September -- International Day of Peace celebrations in at least 25 cities on September 21 as VFP continues its efforts to build a culture of peace in our communities.
Historic Golden Rule Peace Boat tours the California coast throughout the month, visiting eight cities promoting a nuclear free world.
Iowa Chapters sponsor nine-city speaking tour on national security issues with Ray McGovern and Colleen Rowley.
August – 30th national convention celebrated in San Diego, CA.  
Ad placed in The Air Force Times reminding drone pilots that their missions violate domestic and international law.  TV ads with a similar message ran in several cities.
July – Three VFP-UK members return their war medals in ceremony at 10 Downing Street.
June – Historic Golden Rule Peace Boat is re-launched in Eureka, CA to begin mission for a nuclear-free world.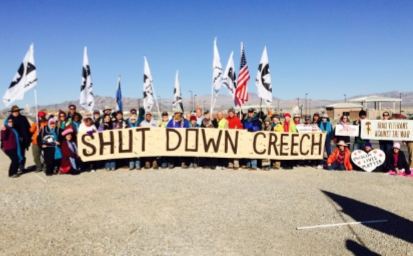 March – VFP helps organize hundreds to protest drone warfare at Creech AFB in Nevada.  Local TV ad asks drone pilots not to fly.
May -- Full Disclosure event at Vietnam Wall in D.C. marks 50 years since U.S. invasion of Vietnam, and 40 years since our departure.
First Annual VFP Lobby Day.  In D.C. and around the country, dozens of legislative visits are made to Members of Congress calling on them to audit the Pentagon, move the money to our communities, support negotiations with Iran and stop sending military materiel to our civilian police forces.
VFP signs letter to President Obama and Defense Secretary Ashton Carter calling on them to release 57 Guantanamo prisoners who have been approved for transfer.
More than 50 chapters around the country bring the peace message to Memorial Day parades and sponsor alternative memorials highlighting the cost of war in human lives. 
The Swords to Plowshares Tower displayed on the mall in Washington D.C. throughout the Memorial Day weekend is visited by thousands