On April 14th, Veterans For Peace delivered a letter to Special Climate Envoy John Kerry, asking Kerry to recognize that militarism is a key part of the climate crisis and the need to promote redirection of military expenditures to address the climate crisis and provide for human needs. 
Read the News Release: Veterans Deliver Letter to Special Climate Envoy John Kerry
---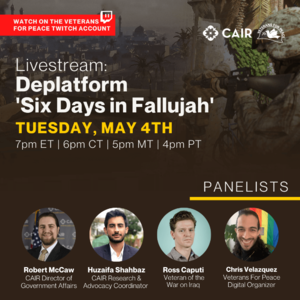 Tuesday, May 4th on 7pm (e), 6pm ©, 5pm (m), 4pm (p)
Veterans For Peace Twitch Channel
The Council on American-Islamic Relations (CAIR) and Veterans For Peace are calling on Microsoft (Xbox) and Sony (PlayStation) and Valve not to host or digitally distribute the soon-to-be-released video game "Six Days in Fallujah," developed by Highwire Games and published by Victura. 
CAIR and Veterans for Peace believe at its core, the game is an "Arab murder simulator" that glorifies violence that took the lives of over 800 Iraqi civilians, justifies the illegal invasion of Iraq and reinforces Islamophobic narratives. 
Join Veterans For Peace and CAIR for a discussion on the upcoming game titled "6 Days in Fallujah"and the truth behind the deadly U.S. military assault on Iraq.  Panel consists of CAIR Director of Government Affairs Robert McCaw, CAIR Research and Advocacy Coordinator Huzaifa Shahbaz, veterans of the war on Iraq, Ross Caputi and Chris Velazquez with an introduction by VFP Executive Director Garett Reppenhagen.