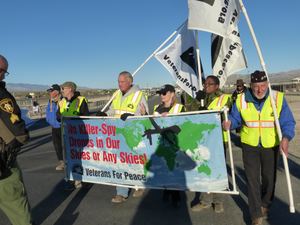 July 22nd 9pm(e), 7pm(c), 6pm(m), 5pm(p)
Join CODEPINK and Veterans For Peace for a Webinar on what it means to be a Creecher. We'll hear from many activists about their experiences, as well as screen a short film on Shut Down Creech. Hop on early @4:30PM PDT to see some footage of the best from 12 years of resistance! 
Hear from the faces of Shut Down Creech:
Dave Patterson, Veterans For Peace

Michael Kerr, Veterans For Peace

Ray Cage, Veterans For Peace

Shirley Tung, CODEPINK

Susan Witka, CODEPINK

Vera Anderson, NDE & CODEPINK
Featured Speakers:
Ann Wright, Veterans for Peace and CODEPINK - The Role of Creech AFB in the U.S. Drone Assassination Program.
Garett Reppenhagen, Executive Director Veterans for Peace -  A Call for Veterans to Join the Mobilization.
Toby Blome, CODEPINK - Why Creech? A call for national mobilization!
Eleanor Levine, CODEPINK - What Does a Week at Shut Down Creech Look Like?
Maggie Huntington, CODEPINK - Who Is Drone Whistleblower Daniel Hale?
There will be a Q&A following the program! 
---
July 31, 2021 @ 4pm(e), 3pm(c), 2pm(m), 1pm(p)
Veterans For Peace is partnering with Warrior Writers in advance of our annual convention!
Led by Warrior Writers trained facilitators and artists, these creative writing workshops offer prompts that cover a variety of military issues and experiences. This encourages sharing stories, opinions, and ideas for productive writing/reflecting/story-telling and art-making. By creating an open and accepting atmosphere, we build a community of support.
Workshops are for any service member or veteran regardless of experiences with writing, combat, art, deployment, etc. These workshops are about just getting that pen to paper and using the creative process to explore and express experiences. Prompts may include writings, visual art, music, or video clips, and will center on the topics of reintegration and how to engage in creating a culture of peace.
There is an opportunity to share the pieces you create during this workshop at a reading during the Veterans For Peace 2021 Online Convention! The Poetry and Song Soiree will take place during the convention on Friday, August 14th at 9:30pm ET. Sharing your work is not required to participate in the writing workshop, but we are excited to be able to offer this opportunity for those who would like to read!
 Register here!
Members In Action
Robert Vivar, co-director of the Unified U.S. Deported Veterans Resource Center and member of the Steering Committee of Veterans For Peace Deported Veterans Advocacy Project, recounts the the honor of walking Mrs. Rocio Rebollar, Deported Mother of U.S. Army Intel Officer 1st Lieutenant Gibram Cruz to the U.S. border crossing for her re-admission to the U.S.  Read more
Check out other highlights about VFP Members!
Source: National Priorities Project