Christine Ahn is founder and international coordinator of Women Cross DMZ, a global movement of women mobilizing to end the Korean War, reunite families, and ensure women's leadership in peacebuilding. In 2015, she led 30 international women peacemakers across the De-Militarized Zone (DMZ) from North Korea to South Korea. They walked with 10,000 Korean women on both sides of the DMZ and held women's peace symposia in Pyongyang and Seoul where they discussed how to end the war.

Christine is also co-founder of the Korea Policy Institute, Global Campaign to Save Jeju Island, National Campaign to End the Korean War, and Korea Peace Network. She has appeared on Al Jazeera, Anderson Cooper's 360, CBC, BBC, Democracy Now!, NBC Today Show, NPR, and Samantha Bee.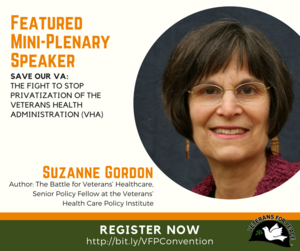 Suzanne Gordon is an award-winning journalist and author. Suzanne is the author or co-author of 11 books including Life Support: Three Nurses on the Front Lines, Beyond the Checklist: What Else Healthcare Can Learn from Aviation Teamwork and Safety. Her latest book is The Battle for Veterans' Healthcare: Dispatches from the Frontlines of Policy Making and Patient Care.
Suzanne is an Assistant Adjunct Professor at the UCSF School of Nursing and an Affiliated scholar with the University of Toronto Faculty of Medicine's Wilson Centre. With Lisa Hayes, she has written a play about patient safety and teamwork entitled Bedside Manners. Suzanne is the Senior Policy Fellow at the Veterans' Health Care Policy Institute."