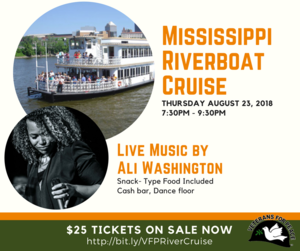 Riverboat Cruise
Thursday, 7:30pm-9:30pm, Boarding at 7pm
205 Dr. Justus Ohage Blvd St Paul
Tickets are $25
The boat is not Proud Mary, but let's go "rollin' on the river" on the side - wheeler Anson Northrup. Grab a bite to eat after the last workshop at 5pm and make our way to the Paddleford Landing.
The landing is a 1 mile walk from the hotel, and transportation for those non-walkers will be provided. Meet the walking guide or transportation option in front of the hotel
Boarding starts at 7pm and the cruise starts at 730pm.
Healthy and tasty appetizers are included. A snack bar of hot dogs, nachos and chips for purchase will also be available. Adult and non-alcoholic beverages will be available at the cash bar.
Music suitable for listening and dancing will be provided by vocalist Ali Washington with guitar accompanist.
---
POOR PEOPLES CAMPAIGN: A National Call for Moral Revival: Intersecting Perspectives
When poor people take action together they will do so with a freedom and power that will be a new and unsettling force. —Martin Luther King Jr., 1967
Friday, August 24, 2018     7:00 to 9:30 pm
Central Presbyterian Church
 500 Cedar Street, St. Paul MN 55101
(Light rail stop in front of church)
The Poor People's Campaign Minnesota and Veterans for Peace invite you to Intersecting Perspectives, a free public event. PPC's powerful 40-day campaign has united tens of thousands of people across the country to challenge the evils of systemic racism, poverty and inequality, ecological devastation, the war economy and militarism,  and the nation's distorted morality. Please join us as we hear from people most impacted by these issues.
Moderated by Michael McPhearson, Veterans for Peace executive director, speakers include Monique Cullers-Doty, Black Lives Matter; Austin Berger, Students Demand Action Minnesota, working for gun control; Rose Whipple, Youth Climate intervener, Honor the Earth; and Rev. Daniel Romero, advocate for immigrant rights. Distinguished Native poet Thomas LaBlanc, Tatanka Ohitika, (Strong Buffalo) will read, accompanied by celebrated cellist Jacqueline Ultan.
Inspiring music by Twin City musicians extraordinaire: Uplifting singing artist and healer Jayanthi Kyle; electrifying and diverse vocalist Tonia Hughes; and singer-songwriter and troubadour Larry Long, who has made his life work the celebration of everyday heroes.
Speakers:
Daniel Romero is the Minister for Faith Formation at the First Congregational Church of Minnesota and a member of the Minnesota Conference (UCC) Immigration Team. Previously, Daniel worked as a community organizer in several states where he organized churches and community organizations around immigration reform and creating Sanctuary Coalitions. In 2016, Daniel worked with the World Council of Churches in the West Bank of Palestine. Locally, Daniel is a volunteer leader with ICOM (Interfaith Coalition on Immigration), MIRAC (Minnesota Immigrant Rights Action Committee), and with the Minnesota Poor People's Campaign. He is also a former member at Southside Presbyterian Church in Tucson where the modern Sanctuary Movement began
Austin Berger, Youth Against Gun Violence, is the Membership Director of Students Demand Action Minnesota. He started advocating for gun violence prevention policy when it directly impacted his community a few years ago. One of the biggest challenges we face in America is the militaristic culture we have cultivated around guns, especially assault-style weapons. This facet of militaristic culture has made its toxic presence known through the historically high number of school shootings we have seen in 2017 and 2018, and it is time we come together and build coalitions to make our communities safe and prosperous.
Rose Whipple is a 17 year old indigenous organizer from the Santee Dakota and Ho-Chunk nations, she works as the Twin Cities Organizer for Honor The Earth, and is one of the 13 Youth Climate intervenors who fought the line 3 pipeline in the permitting process."
Beloved singing artist and healer Jayanthi Kyle has performed in many churches, bars/nightclubs, preschools, schools, hospitals, libraries, street corners, homes, funerals, births, festivals, and theaters throughout the Twin Cities, across the country, an orphanage in India, and the Ulster Museum in Belfast Ireland. Jayanthi (translated: Victorious One. Pronounced Giant Thee) has been in more than 10 bands and is a founding member of The Million Artist Movement.  A mother of three, (10,9, and 5 year olds), and a long time child caregiver, Jayanthi strongly believes in the sacred power of the hearts and minds of children and nurturing kindness through respect as well as growing magic and curiosity. She has learned and now teaches many protest songs to help lift the workers of justice and peaceful dissent. Kyle also has a passion for singing to soothe the journey of those passing from this world or the grieved and touched they've left behind. Her golden voice will attempt to puncture and melt the coldest heart and help heal hurts so we may all grow more healthy through the power of story and song in self then family then community then world. Jayanthi is thrilled to partner with Veterans for Peace for this annual event.
Monique Cassandra Black Lives Matter Minnesota.
---